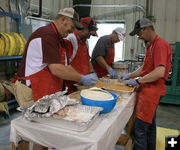 Breading

(L to R): Ray Pape, Jeff Andaim, Dan McCann and John Studt bread the catfish and get it ready for frying.





Scroll down for more pictures




Catfish Fry
Big Piney-Marbleton Volunteer Fire Department annual fundraiser
by Dawn Ballou, Pinedale Online!
Original post August 6, 2011 | Updated August 8, 2011

The Big Piney-Marbleton Fire Department held their annual Catfish Fry on Saturday, August 6, 2011 at the fire hall in Marbleton. The meal included fried catfish, tater tots, french-fries, hush puppies, corndogs, salads and baked beans. 501 people were served at the event.

The event is a fundraiser for the department. Admission was by donation and participants could win door prizes. Kids got balloons and to go on fire truck rides. Hundreds of people attended the event. Proceeds go towards training and schools for the fire department.

The Big Piney-Marbleton Volunteer Fire Department protects the people and property in the towns of Big Piney and Marbleton, and the surrounding area. They also assist and help the other volunteer fire departments and the Sublette County Sheriff's Office throughout Sublette County, as needed. They also respond to assist federal and state agencies on wildfire calls in the county. The department always welcomes applications for new members.

Special thank you to Gary Eiden with Eiden's Construction for their generous donation to sponsor the Catfish Fry.

Photos by Dawn Ballou, Pinedale Online!