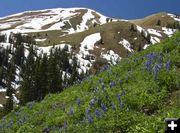 Lupine hillside

South Cottonwood Creek drainage on July 24, 2011. Photo by Dave Bell.

Wyoming Range photos
Photos by Dave Bell
July 25, 2011
Dave Bell posted pictures from his recent hike in the South Cottonwood Creek drainage to the Wyoming Range crest on Sunday, July 24th. " There are many beautiful places in the Wyoming Range--it is truly a remote and "not well traveled" area. I headed up S. Cottonwood Creek today towards the Wyoming Range crest. This is about a 2,000' vertical climb, on very lightly worn tread. In fact, there is no evidence of human presence this year. The Cottonwood Creek stream crossing are difficult--very wet, deep and fast. My first crossing was less than graceful and nearly ended in disaster for me and my gear. You encounter snow at the trailhead, but nothing of any depth--until the final ridgeline push and kicking steps are needed to attain the top. A wonderful day with gorgeous scenery--again!" Click on this link for his South Cottonwood Creek-Wyoming Range photo album.