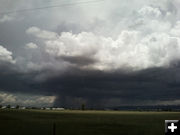 Boulder funnel cloud

Picture taken Wednesday afternoon, July 13, from the Boulder area. Photo by Kathy Sandmeier.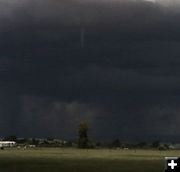 Storm funnel

Close-up view of the funnel cloud. Photo by Kathy Sandmeier.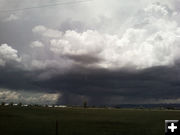 Funnel

Photo by Kathy Sandmeier.

Strong thunderstorm, funnel cloud near Pinedale
Photos of view from Boulder
Original post July 13, 2011 | Updated July 20, 2011
Editorís Note: On Wednesday, July 13, a strong thunderstorm passed over Pinedale bringing frequent lightning over the town, heavy rain, and ominous dark clouds. The National Weather Service issued two Special Weather Statements warning about the storm and stating that a funnel cloud had been spotted east of Pinedale at 1:30PM and about 15 miles northwest of Pinedale at 2:20PM. There were no reports of the funnel cloud touching the ground. The NWS alerts are posted below.

Wednesday evening, Boulder resident Kathy Sandmeier sent in these photos of the funnel cloud. "These are not the best quality photos as they are from my cell phone camera. Pictures were taken from the Grable Lane south of Boulder near the Highline Campground. We watched it for a good 15 minutes as it changed shapes and snaked around the sky. Was a white funnel against the black background of the storm clouds."

Update July 20, 2011: We've added in a picture sent in by Sublette County resident, Jim Mitchell of the funnel cloud he saw 4.5 miles southeast of the Pinedale Airport near Little Halfmoon Lake.
__________________________________________________

STRONG THUNDERSTORM, FUNNEL CLOUD NEAR PINEDALE, 1:30PM Wednesday, 7/13/11: National Weather Service Significant Weather Advisory for central Sublette County until 2:00PM. Strong thunderstorm near Pinedale moving northeast at 20 mph. Hail up to Ĺ inch in diameter and wind gusts up to 40 mph are expected, along with lightning and heavy rain. A NWS meteorologist reported seeing a small narrow funnel cloud east of Pinedale at 1:30PM. The funnel has since dissipated, but the possibility for another to form still exists. If threatening weather approaches your area, take shelter in a sturdy building. Report hazardous weather to the NWS in Riverton at 1-800-211-1448.

National Weather Service Special Weather Statement, Wednesday, July 13, 2011, 2:26PM:
Thunderstorms continue to develop across the Upper Green River Basin foothills this afternoon. A couple of these storms have indicated some weak rotation on radar this afternoon. A spotter reported a funnel cloud about 15 miles northwest of Pinedale at 220 pm this afternoon. Be alert this afternoon for continued thunderstorm development. The strongest storms may produce brief heavy rain, small hail, wind gusts to 40 mph and frequent lightning.