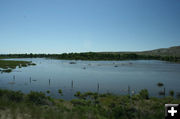 New Fork River - July 2nd

New Fork River overflow on Saturday, July 2nd. This view is from Hwy 351 looking upstream by Ross Butte. Photo by Dawn Ballou, Pinedale Online!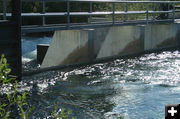 Fremont Lake July 1

Fremont Lake water level was just below the spillway on Friday afternoon, July 1st. Photo by Dawn Ballou, Pinedale Online!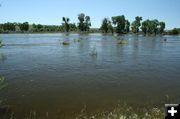 New Fork River - Lander Trail Crossing

The New Fork upstream from Hwy 351. This is the same kind of conditions emigrants crossing in wagons on the Lander Trail/Oregon Trail would have encountered at this crossing. Diary accounts from early July note the high water and difficult crossing. Photo by Dawn Ballou, Pinedale Online!


Flood Warning extended for western Sublette County
by National Weather Service
July 2, 2011

The National Weather Service in Riverton has extended the Flood Warning for melting snow in east central Lincoln County in west-central Wyoming. Western Sublette County in west-central Wyoming until 9:00PM Sunday

At 11:34AM (Saturday, July 2) Emergency Management reported continued flooding near the confluence of Horse Creek and the Green River. Homes near Daniel continue to be threatened with the high water.

Excessive snowmelt runoff along the western Wind River Mountains and the Wyoming Range continues to cause very high flows along creeks and streams that feed into the Green River. The high flows are currently making their way to the Green River near LaBarge. The Green River near LaBarge is expected to continue to steadily rise and crest near 9.6 feet near noon on Sunday. Flood stage is 9.5 feet.

Flooding along the Green River near LaBarge will cause county road 318 south of LaBarge to be severely inundated with water. Homes near the Green River south of LaBarge will also have flood problems.

Do not drive your vehicle into areas where the water covers the roadway. The water depth may be too great to allow your car to cross safely.
____________________________________________

Editor's Update, Saturday, July 2nd - Sublette County Emergency Management Coordinator, Jim Mitchell gave this update on Saturday afternoon: Emergency crews have dug a channel to divert water moving near a home on the south side of the Green River, between Daniel and the river. That channel appeared to be working to lower the water level at that location. In Pinedale, Fremont Lake water levels topped the spillway on the dam by about an inch on Saturday. Crews have done some sandbagging around Rivera Lodge along Pine Creek south of the Pine Creek-US 191 bridge in town. No structures threatened as of the time of this report. In the Upper Green, some logs are collecting under the Green River bridge that goes to Elk Ridge Lodge. Emergency Management crews are keeping an eye on that situation. Anyone who has questions or concerns about flooding is asked to call the Sublette County Sheriff's Office Dispatch at 307-367-4378.




Related Links