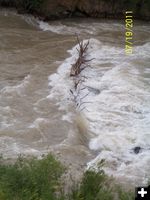 Tree Hazard

Photo courtesy Bridger-Teton National Forest.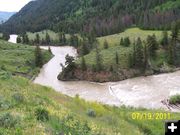 Hoback River

A fallen tree poses a hazard to boaters on the Hoback River near Hoback Junction. Recreationists are urged to use caution and scout the river path before putting into the water. Photo courtesy Bridger-Teton National Forest.


Fallen tree blocks Hoback River
by Bridger-Teton National Forest
July 20, 2011

A tree has blocked the majority of the channel of the Hoback River south of Jackson, Wyoming making it difficult for watercraft and swimmers to pass on that portion of the Bridger-Teton National Forest.

The fallen tree is perpendicular to the flow of the water and lodged in an area called "Campground Wave", directly east of Hoback Junction between Camp Creek Restaurant and the Hoback Junction visible from Highway 191. The tree's trunk is predominantly underwater, but branches remaining on the tree jut multiple feet into the air, and look like a comb. This river hazard was reported by a Forest permittee who was scouting the river before launching his watercraft for the day. "Conditions are constantly changing on the rivers and we highly encourage all river users to scout the channels before they launch their vessels, even if they are familiar with the features of the river," said Jackson District Ranger Dale Deiter. "We have some significantly higher flows than we have had in the past and that brings new challenges to river users," he said.

The recreation staff is currently placing signs at various access points along the Hoback River to caution visitors of the significant hazard posed by this tree. The tree is lodged on a large rock in the middle of the channel, and is very difficult to safely approach at high water for removal. Visitors are being warned to be careful when utilizing the Hoback River until the Forest is able to remove the tree. Dieter offered, "This is not the season to let your guard down. Anytime you are on or crossing moving water, please be aware of changing conditions."