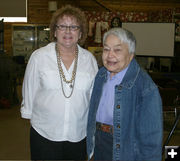 Nancy and Doris

Nancy Weidel (L) stands with Doris Platts (R) during the season opening for the Green River Valley Museum in Big Piney. Weidel wrote a book entitled, "SHEEPWAGON – Home on the Range" and she gave a presentation on sheep wagons at the June 4th program. Platts recently donated a sheep wagon to the Green River Valley Museum. She is also the author of seven local historical books.


Sheep Wagon - Green River Valley Museum
by Dawn Ballou, Pinedale Online!
June 9, 2011

The Green River Valley Museum in Big Piney opened for the 2011 summer season on June 1st. One of the Museum's newest exhibits is a sheep wagon, donated by Doris Platts. As their opening program of the season, the Museum was pleased to have author Nancy Weidel give a talk on sheep wagons.

Doris Platts acquired her sheep wagon in 1970. The wagon was about 50 years old at that time. Platts, a long-time teacher, moved to Wyoming in 1974 and began working on dude ranches. She also rode with the Green River Cattle Association in the fall and spring. Wagons like the one donated by Platts, can still be seen today used by sheep herders guarding flocks of sheep in Wyoming.

Author Nancy Weidel spent years interviewing sheepmen and women, sheepherders, wagon builders, and experts for her book. She said in the late 1800s there were 5-1/2 million sheep in Wyoming compared to 3-1/4 million cattle. By 1994, those numbers dwindled to 620,000 sheep and 375,000 head of cattle. Today, there are estimated to be approximately 8,000 head of sheep in Sublette County. Sheep ranching is a shrinking industry.

Sheep ranchers hired shepherds to tend flocks of sheep. The shepherds lived on the range with the herds and served as guards and moved the flock from pasture to pasture. Weidel said the typical sheep wagon had a canvas cover and included a bed, table, chairs, storage areas and wood stove. In the early years, they were pulled by horses to get to where they were needed. Modern-day sheep wagons are outfitted with sheet metal sides and roofs and have rubber wheels so they can be pulled by vehicles.

There are still companies that make sheep wagons in various styles and shapes. They are popular today for camping and as utilitarian compact housing. Sheep wagons may have been one of the earliest forms of the RV (recreational vehicle).

The Green River Valley Museum is open from June 1st to October 15th for the summer season. Their hours are from noon to 4:00 PM on Tuesday through Saturday. Admission is free. The Museum is a nonprofit corporation, and although it receives some support from county funds, it is largely dependent on donations from private sources. All contributions, large and small, are appreciated.