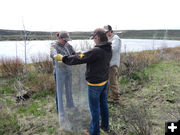 Warren Bridge River Trail

WCC students protect new willow growth on the Warren Bridge River Trail located outside of Pinedale. Photo courtesy Wyoming Conservation Corps.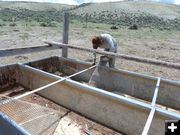 Bird Ladders

A WCC student installs bird ladders in the NPL field, allowing bird species to safely utilize water well resources on BLM land. Photo courtesy Wyoming Conservation Corps.




Wyoming Conservation Corps

The mission of the Wyoming Conservation Corps is to connect young adults with a diverse array of hands-on natural resource and environmental management experiences, and to promote leadership, through the completion of service projects that benefit lands in Wyoming.


Encana readies Wyoming Conservation Corps for more projects
Students work on projects with Pinedale and Casper BLM offices
by Wyoming Conservation Corps
June 30, 2011

PINEDALE – The Wyoming Conservation Corps (WCC) received $23,000 from Encana Oil & Gas (USA) Inc. to sponsor two, 10-day service learning projects that offer students a hands-on opportunity to connect with Wyoming's natural resources.

"Wyoming is rich in natural resources. Among wildlife, agriculture, forestry and cultural resources, exists energy development," said Randy Teeuwen, Encana community relations advisor. "Encana's partnership with WCC will allow students to interactively gain environmental management experiences, while also improving and maintaining our state's public lands."

"The WCC is proud to continue the legacy of public service that we were built on. Every project we coordinate focuses on the highest caliber of service for Wyoming's public lands," said Tim Sowecke, WCC senior project coordinator. "And every project we complete is a step closer in developing future natural resource experts and leaders in Wyoming."

Students who participate in the WCC program receive a modest living stipend and academic credit through the University of Wyoming Haub School & Ruckelshaus Institute for Environment and Natural Resources. Grouped in six crews of eight, each student will work on six projects throughout the state, racking up more than 640 hours of invaluable public service by summer's end.

"The WCC takes great pride in developing students and future civic and environmental leaders that possess a balanced and practical understanding of natural resources management," said Sowecke. "It's our goal to promote personal, technical and leadership skills, through projects that will give students a deeper appreciation for Wyoming's public lands, the natural resources on those lands, and perhaps most importantly, the communities inextricably tied to those lands."

The first project was completed on June 1 in cooperation with the Casper BLM field office and the Conservation Fund. A crew of WCC students constructed nearly two miles of wildlife friendly fence. Located on BLM and Conservation Fund property, the wildlife friendly fence eases migration for elk and deer populations and keeps cattle out of important riparian areas on the North Platte River.

The crew also installed water bars on pedestrian trails in Trapper's Route, a popular recreation area of the North Platte. Four BLM employees worked with the students and instructed them on proper fence construction and how rivers are managed.

"The project was a great success," said Eve Bennett, Casper BLM outdoor recreation planner. Bennett helped coordinate the project and supervised the crews during the project. "I was very impressed with the crews, they did an amazing job and we would have them back at anytime."

The second project was recently completed on June 15, where another WCC crew worked on objectives beneficial to recreation, rangeland and wildlife resources on land managed through the Pinedale BLM field office. The students built the final half-mile of the Warren Bridge Hiking Trail, a public walking path alongside the Green River.

In addition, the crew also traveled throughout the NPL (Normally Pressured Lance) field to mark fences with sage grouse reflectors, or bird ladders. According to Josh Hemenway, Pinedale BLM Wildlife Biologist, many stock tanks throughout the field have not been outfitted with ladders, which represent a potential hazard to wildlife.

"The students installed 67 ladders in 30 stock tanks, exceeding the number I had targeted for installation. They did an excellent job – and always with a positive attitude," said Hemenway. "This effort reduces the probability of wildlife loss in stock tanks by providing escape routes for sage grouse and migratory birds."

Throughout the summer, the students also conduct outreach presentations to inform surrounding communities of the work they are completing in the area. At the end of the summer, WCC students are evaluated on their knowledge of public land management agencies and the issues they handle.