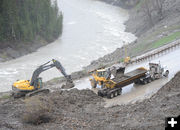 May 24, 2011 mudslide work

Crews continue to work 24-hours/day to haul away material around the clock from a landslide that has closed a section of US 26-89 southwest of Jackson. Photo by Wyoming Department of Transportation


Work continues on Snake River Canyon mudslide
by Wyoming Department of Transportation
May 24, 2011

Crews continue to haul away material around the clock from a landslide that has closed a section of US 26-89 southwest of Jackson.

Yellow Iron of Wilson has loaders, excavators, dozers and trucks working on the Hoback and Alpine sections of the slide.

"We saw a lot of headway (Monday) with the material being moved off the landslide area," said John Eddins, District 3 district engineer. "Things are looking optimistic."

WYDOT is still monitoring the large mass that has stalled out above the road and hopes to begin work on it soon. As cleanup efforts continue, WYDOT is coordinating with federal resource agencies.

The debris removed from the landslide will be hauled to areas in Astoria and Wolf Creek. The Wolf Creek area can take 35,000 cubic yards of material. If more material needs to be hauled away, WYDOT can take that debris to the stateís Alpine pit.

WYDOT is unable to give an exact timeframe for completion of the debris removal. Changing weather conditions and unknown road conditions underneath the slide make it difficult to predict.

So far all signs point that the road underneath is intact but the condition of the road canít be determined until the debris is removed. WYDOT also will be installing pipe culverts to handle the water flowing from the landslide area during and after the work is completed to keep the drainage off the road surface.

Communities and businesses in the affected areas are still accessible to the public. Summer tourism activities will not be affected and visitors and residents can still get to the places they need to by alternate routes. Most of US 26-89 in Snake River Canyon is open for travel. Motorists will encounter closure barricades about a quarter of a mile from either side of the slide area.

Northbound traffic on US 26-89 can continue on US 26 into Idaho north of Alpine Junction. That route passes through Irwin and Swan Valley before becoming Idaho Highway 31, which turns to the east through Victor and into Wyoming, where WYO 22 crosses Teton Pass into Jackson. Southbound traffic can reverse that route to detour around the slide. The alternate route adds about 36 miles to the length of the trip.

Vehicles weighing more than 80,000 pounds and all trailers, including boats and campers, will be prohibited on Teton Pass from 6 a.m. to 9 a.m. and from 3 p.m. to 6 p.m. to facilitate daily commuters during the closure.