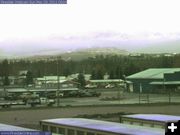 Pinedale cam

View from the Pinedale webcam on Sunday morning, May 29.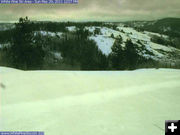 White Pine top

View from the White Pine Ski Area top webcam on Sunday, May 29, 2011.

Winter Weather Advisory for Memorial Day Weekend
May 29, 2011
A late spring storm will bring snow to the western, central and northern Wyoming through Memorial Day morning (Monday, May 31st).

Snowfall will occur in western, central and norther Wyoming Sunday and Sunday night. The snow will taper off Monday morning. Snowfall of 8 to 16 inches can be expected in the mountains above 7,500 feet. Locally higher amounts above 10,000 feet. Additional snowfall of 3 to 6 inches can be expected in the lower elevations of Sublette, Fremont and south Lincoln counties.

Upper Green River Basin foothills and Upper Green River Basin, including the cities of Pinedale. LaBarge. Big Piney, Farson: A Winter Weather Advisory is in effect until 6:00AM Monday morning. Snow will continue Sunday before tapering off Monday morning. 3 to 6 inches, with locally higher amounts, are expected. Visibility will be below ¼ mile at times due to heavy, wet snow and fog. Travelers, campers and others involved in outdoor recreation in the mountains should be prepared for adverse winter weather conditions. Use caution while driving.

Accumulating snowfall has made its way down to an elevation of 5,000 feet. The snow will continue to accumulate in much of the mountains, but some melting will likely occur in the lower elevations before some additional accumulation takes place once again Sunday night.

1 to 2 inches of was reported in Lander with up to 6 inches in Sinks Canyon in the foothills above Lander. An estimated 7 to 10 inches of snowfall has fallen on the east slope of the Wind RiverMmountains 8,500 feet above Lander. 2 inches of snowfall has accumulated so far at the National Weather Service office seven miles northwest of Rverton. An inch of snow was reported 2 miles southwest of Riverton and in the town of Ethete.

Elsewhere in southwest Wyoming, 6.5 inches of snowfall has accumulated in Kemmerer in southern Lincoln county. 2 inches of snow fell in Smoot in the Star Valley. In the surrounding mountains, an estimated 4 to 7 inches of snow has fallen in the southern Salt and Wyoming ranges.
Farther north, parts of the Teton Mountains have received an estimated 3 inches of snow. Up to an estimated 6 inches of snow has fallen across the southeast Absaroka mountains along with 4 to 7 inches across the southern Big Horn Mountains.

6 to 12 inches of total snowfall, along with locally higher amounts, is forecast for much of the aforementioned mountains with less snowfall accumulation across much of the adjacent lower elevations by late tonight.