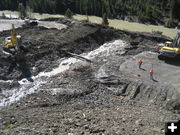 Road gone

Removal of the slide debris from US 26-89 in the Snake River Canyon uncovered a large trench the slide debris and water cut across the highway. Photo courtesy Wyoming Department of Transportation.


Slide debris removed, road damage underneath
Snake River Canyon mud slide
by Wyoming Department of Transportation
May 26, 2011

Most of the slide debris has been removed from US 26-89 in the Snake River canyon southwest of Jackson, but significant work remains to improve drainage and repair the highway before it can be reopened.

Completion of the debris removal revealed the full extent of a trench the slide debris and water cut across the highway. The trench measures as much as 50 feet wide and seven feet deep.

"That actually is a benefit to us," WYDOT District Engineer John Eddins said. "The trench eroded across the road is in the same location we knew we were going to have to put in a large drainage pipe, and it's wide enough that we could divert the water and debris flow to the east side of the trench and prepare a bed for the drainage pipe on the west side."

Crews plan to install the pipe late Thursday. Work also will be required to channel the water and debris still flowing above and across the road into the pipe.

"There is still a relatively large quantity of mud, rock and water flowing above the road and in the trench across it, so there are some unknowns about how well the drainage pipe will be able handle that flow," Eddins said. "But, we're doing everything within our power to get the road open as soon as it's safe to do so."

Once the drainage improvements are completed, the trench will be filled and the road surface restored.

Motorists should be aware that heavy equipment and trucks continue to operate in the area.

Currently the plan is to reopen the highway initially to a single lane of traffic, with a traffic control system in place to move vehicles safely through and keep delays to 20 minutes or less.

Once a single lane is open, work will continue to open the second lane, and WYDOT will keep personnel at the site around the clock to continue to monitor the slide activity above the road. Heavy equipment also will be kept on standby there.

Vehicles weighing more than 80,000 pounds and all trailers, including boats and campers, will continue to be prohibited on Teton Pass on WYO 22 from 6 a.m. to 9 a.m. and from 3 p.m. to 6 p.m. Monday through Friday until US 26-89 is reopened.

Travelers can dial 511 or go to www.wyoroad.info for up-to-date information on the status of highway's in the area. Commuters are encouraged to sign up for WYDOT's 511 Notify service to get automatic e-mail and text alerts about openings and closures on US 26-89.