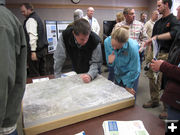 NPL Meeting

A public meeting was held at the Pinedale BLM office on Monday, May 2nd. Photo by Bill Winney.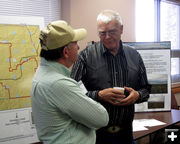 Otto and Bousman

Chuck Otto (L) talks with Sublette County Commissioner Joel Bousman (R). Otto, formerly the Pinedale BLM Field Manager, now is the Western Region NPL liaison. Photo by Bill Winney.


Encana NPL
Proposed new 141,080-acre gas field south of Pinedale
by Dawn Ballou, Pinedale Online!
May 3, 2011

The Bureau of Land Management (BLM) and Encana Natural Gas held the first of three public meetings about the proposed NPL, Normally Pressurized Lance, natural gas development project proposed in south Sublette County, approximately 35 miles south of Pinedale. The first meeting was held on Tuesday, May 2nd at the Pinedale Bureau of Land Management office. Representatives from Encana and the BLM were on hand to answer questions.

The NPL region encompasses 141,080 acres immediately south and west of the existing Jonah Field. Encana Oil & Gas (USA( Inc. currently holds mineral leases on more than 70% of this area. Long-term development potential involves a maximum of 3,500 wells to be drilled over 10 years to produce natural gas. Encana anticipates drilling an average of 350 wells per year on multi-well pads that will be approximately 18 acres in size each. There would be four multi-well pads per 640-acre section of land. Average life of each well is expected to be 40 years. Wells will be directionally drilled. Gas will be brought to 11 regional gathering facilities that will have electric compressors, gas dehydrators, liquid storage and other equipment. Manpower would utilize the existing Encana workforce facility located between the Jonah and NPL gasfields.

The Notice of Intent was published on April 12, 2011. The public comment scoping period ends on May 12th. The Draft Environmental Impact Statement will then be compiled. Once it becomes available to the public, there will be a 45 day public comment period before a decision is made on the project.

Issues in the area include protection of air, groundwater and wildlife in the area. Studies are currently underway for groundwater monitoring, sage grouse, and big game habitat and migration corridors, and wild horse areas.

Public comments must be submitted by May 12, 2011. Mail or deliver written comments to: Kellie Roadifer, PFO, 1625 W. Pine St., P.O. Box 768, Pinedale, WY 82941. Comments can also be emailed to NPL_EIS_WY@blm.gov.

The second NPL public meeting will be held at the Marbleton Senior Center on Wednesday, May 3rd starting at 5:30PM. The third meeting will be in Rock Springs on Wednesday, May 4th at the BLM RSFO, 280 Hwy. 191 N.

Thank you to Bill Winney for some of the photos used in this story. Additional graphics gleaned from Encana Natural Gas literature.




Related Links