Bekah Knapp

Bekah Knapp performs a clarinet solo, with Jaclyn Nelson accompanist. Photo courtesy Craig Sheppard.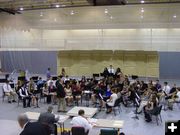 Concert Band

Pinedale High School concert band performs for the judges. Photo courtesy Craig Sheppard.


Wyoming Southwest District Music Festival
Pinedale High School Music Department performs well
by Sublette County School District #1
April 20, 2011

The Pinedale High School music department traveled to Afton last Thursday and Friday to participate in the annual Southwest Wyoming District Music Festival. While there the concert band, concert choir, jazz band, jazz choir, small ensembles and numerous soloists performed for their judges.

The 53-piece concert band earned a (excellent) II+ rating and a (superior) I- rating from their adjudicators. The jazz band received two II + ratings from their judges. Both bands had a half-hour clinic with an adjudicator. Matt Moore from BYU-Idaho worked with the concert band and John Aanestad from Riverton worked with the jazz band. The bands other judge was Bryce Mecham from BYU-Idaho.

The Pinedale Choir did very well with the 54 voice Concert Choir receiving two II (excellent) ratings from their judges Judges for the concert choir were David Olsen and Kim Brower from the University of Utah. Their clinic was headed up by Mr. Olsen. The Jazz Choir also received two II ratings and were judged by the same two judges with Kim Brower doing their clinic.

Pinedale vocal had 9 soloists and 3 ensembles performing on Friday. Loni Wells received a I (superior) rating on her vocal solo. Vocal soloists receiving II (excellent) ratings were Ashlee Anderson, Haley Gray, Madie Dugan, Sierra Cunningham, Baylee Buchanan, Kristy Brandewie, Shane Adams and Christina Silvey. The vocal ensembles also did really well with the duet of Christina Silvey and Kristyann Brandewie receiving a perfect score I (superior). The vocal trio consisting of Valerie Vidal, Bekah Knapp and Haley Gray received a II (excellent) rating. The vocal quintet of Loni Wells, Ashlee Anderson, Vanessa Rugh, Brooke Stone and Sierra Cunningham also received a II (excellent) rating. The vocal accompanists were Lynda Silvey and Chris Cramer.

Pinedale instrumental had 1 soloist performing on Friday. Bekah Knapp on clarinet received a I (superior) rating. Bekah was accompanied by Jaclyn Nelson.

Thanks goes out to all who made this possible. Special thanks goes out to bus drivers Ray and Jeanette Sanborn, John Overgaag, Ernie Kawa and Gary Bingham and chaperones Mary Kleven, Dana Brewer and Cheryl Grossman.

The Pinedale vocal department is under the direction of Gena Anderson and the Pinedale instrumental department is under the direction of R. Craig Sheppard.

Come out and listen to these young musicians perform in their last concerts of the year on Tuesday April 26th (Jazz Concert), Tuesday May 4th (All Choirs Concert) and Monday May 9th (Spring All Bands Concert). These concerts start at 7PM in the Pinedale auditorium and there will be no admission charged. Both the HS concert choir and HS concert band also will be performing at graduation Friday May 27th.