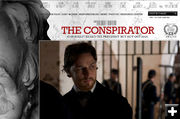 The Conspirator

James McAvoy as Frederick Aiken, on his way to meet new client, Mary Surratt. Photo courtesy The American Film Company.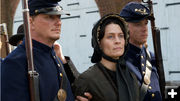 Prisoner

Robin Wright as Mary Surratt, escorted by officials from her prison cell. Photo courtesy The American Film Company.


'The Conspirator' debuts April 15
First movie from The American Film Company, owned by Bondurant resident Joe Ricketts
by Pinedale Online!
April 7, 2011

Joe Ricketts has announced the theatrical release of his first movie, "The Conspirator" on Friday, April 15th in movie theaters around the country.

Directed by Robert Redford, The Conspirator tells the powerful true story of the only woman charged in the conspiracy to assassinate Abraham Lincoln, and the young attorney forced to defend her. The film features James McAvoy, Robin Wright, Kevin Kline, Tom Wilkinson, and Evan Rachel Wood. This is the first film from The American Film Company.

Entrepreneur and online brokerage pioneer, Joe Ricketts, founded The American Film Company in 2008 with executives Alfred Levitt, Brian Falk, Robert Stone, and Webster Stone.

In advance of the release in theaters, the National Geographic Channel will air the documentary, "The Conspirator: The Plot to Kill Lincoln" on Tuesday, April 12, at 9:00 p.m. ET.

Excerpts from the program can be viewed here: http://channel.nationalgeographic.com/episode/the-conspirator-the-plot-to-kill-lincoln-6469/Overview.

Founded on the belief that real life is often more compelling than fiction, The American Film Company produces feature films about incredible, true stories from America's past. Central to the company's filmmaking will be prominent historians, assuring that each production remains true to the history from which it is drawn.

"The American Film Company only makes historically accurate and theatrically engaging films about American history," Ricketts said in a letter announcing the release of the documentary. "If you have not already done so, I encourage you to register as a member on our website so that you can receive information and announcements about current and future films from The American Film Company, where you can Witness History."

Joe Ricketts founded the online brokerage company TD Ameritrade, and his family recently purchased controlling interest in the Chicago Cubs major league baseball franchise and historic Wrigley Field ballpark. He has a home in Bondurant, Wyoming.