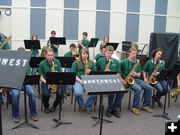 Jazz Festival

Photos courtesy Sublette County School District #1.


Pinedale Jazz Band I and Jazz Choir perform at The Northwest Jazz Festival
by Sublette County School District #1
April 5, 2011

The Pinedale Jazz Band I and the Pinedale Jazz Choir traveled to Powell March 23-25 to attend and participate in the 28th annual Northwest Jazz Festival. The Pinedale band and choir, come from one of the smallest schools at the festival. This year there were 42 groups from Wyoming and Montana participating in the festival.

The jazz choir sang for their judges and received a II and a II rating. Then their judges, Michelle Weir and Greg Jasperse, worked with them in a clinic session. Michelle Weir is one of the leading figures in vocal jazz today. She has earned international recognition through a diverse set of talents as arranger, teacher, singer and pianist. Greg Jasperse is a composer, arranger, recording artist and educator currently living in Los Angeles. Vocal jazz members are Ashlee Anderson, Bekah Knapp, Vanessa Rugh, Kristy Brandewie, Hattie McKay, Brielle Buchanan, Christina Silvey, Aubrie Doyle, Baylee Buchanan, and Madie Dugan. Accompanist for this group is Mrs. Lynda Silvey and Gena Anderson is their director.

The jazz band played for two judges and were critiqued on their overall performances as well as their improvisation solos. They received a I rating and a II from their judges. Judges this year were Shuichi Komiyama and Lou Fischer. Mr. Komiyama is a versatile orchestral and wind conductor, who is well studied in both classical and jazz idioms. Born in Japan and formally educated in the United States, his conducting engagements are concentrated in Asia. Currently he is the Music Director and Conductor of the Montana State University Symphony Orchestra and the Billings Youth Symphony. Dr. Lou Fischer is a Yamaha performing artist and is extremely active in the entertainment industry where he has performed on over 2000 commercials, 50+ Broadway shows and toured worldwide with over 15 jazz orchestras and groups. He is currently a professor of music, jazz activities coordinator and jazz ensemble director at Capital University in Columbus, Ohio.

The Pinedale band is always noted for how many soloists that perform with the band and this year was not different. They received a record high of 14 solo awards this year. Singled out for outstanding solo awards were Andi Noble and Kelli Terrell – alto sax, Gus Holz, Caitlin Tan and John Cooney – trumpet, Maggie Hudlow, Jo'Lee Springman and Aunders Hallsten – tenor sax, Shawn Butner-bari sax, Will Nelson and Kodee Williams – trombone, Niko Kolis and Harley Estrada – bass guitar, and Garett George –guitar. These fourteen each received a $200 grant/scholarship to the Yellowstone Jazz Camp this summer for their outstanding musicianship. That night the band went to a concert which featured the the Northwest College Jazz Band and then the world reknowned trumpet player, Randy Brecker and his band. The festival participants were treated to a hour and a half show of non stop rhythm and blues and jazz rock featuring Mr. Brecker on trumpet, wife Ada Rovatti on tenor sax and four other very talented international rhythm players.

The Pinedale Jazz Band I members are Calvin Makelky, Kelli Terrell, Maggie Hudlow, Andi Noble, Jo'Lee Springman, Aunders Hallsten, Shawn Butner , Will Nelson , Kodee Williams, Chris Waldrep, Jared Attanasio, Tyler Cloyd, Gus Holz, John Cooney, Caitlin Tan, Ali Wadsworth, Niko Kolis, Garett George, Harley Estrada and Josh Abel. They are under the direction of R. Craig Sheppard.

We can't forget to thank our band chaperone Retta Hudlow, band bus driver Ray Sanborn and our choir bus driver John Overgaag who really helped make this trip a success.

The band and choir now are getting ready for Southwest District Music Festival (April 14-15) in Star Valley, followed by their home concert (April 26th). The band is also getting ready for the University of Northern Colorado Jazz Festival at Greeley, Colorado (April 28-29). Both groups final performance of the year will be at the Senior Fundraising Dinner Performance (May 5th).

Come out and watch these young musicians April 26th at 7 PM in the Pinedale Auditorium and then again when they perform May 5th at the old school cafeteria.