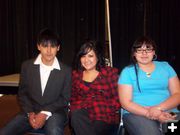 State History Day

Israel Duran, Teresa Perez and Laura Delgado at 2011 State History Day in Laramie, Wyoming


Ms. Sommersí BPHS ELL Reading Class excels at State History Day
by Jonita Sommers
April 21, 2011

Big Piney students Laura Delgado, Israel Duran and Teresa Perez from Ms. Sommersí 3rd Year ELL Reading Class all placed at District History Day, so they were able to attend State History Day in Laramie at the University of Wyoming on April 17-18, 2011. Teresa Perez won 1st place in Senior Individual Websites with her project, "Changes of Immigration in the United States." She will be able to attend National History Day at the University of Maryland June 11-19, 2011.