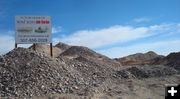 Riverton Job Corps site

Utility infrastructure has been installed at the site of the new Wind River Job Corps Center NW of Riverton adjacent to Riverton Regional Airport. Upcoming infrastructure projects include construction of a 2 million gallon water tank and booster station and improvements to the Airport Road. Photo courtesy Wyoming Inc.


Job Corps site under construction in Riverton
Provides job training to at-risk youth ages 16-24
by Ernie Over, Wyoming Inc.
April 11, 2011

RIVERTON – While the effort to release already allocated funds for the construction of the Wind River Job Corps Center in Riverton continues in Washington, site work is well underway at the Job Corps campus in Riverton. Fremont County Board of Cooperative Education Services Executive Director Sandy Barton reported Tuesday, April 5, that four of the Center's program elements have already been put out to bid by the Department of Labor, which oversees the Job Corps program nationally.

Contractors are now being sought to provide the educational programming for the Construction, Heavy Equipment/Diesel Mechanics, Electrical and Facilities Maintenance curriculum programs for the new center. Still to be bid are contracts for the Energy Production and Extraction, Office Administration, Medical Office and Allied Health plus the Welding curriculum components, she said.

Attending the meeting were new Riverton Mayor Ron Warpness and interim City Administrator John Darrington plus Eastern Shoshone Tribal Council member Willie Noseep and Tribal Liaison Edward Wadda; Northern Arapaho Tribal Council member Jim Shakespeare and Tribal Liaison Gary Collins; plus Central Wyoming College's Jason Wood, the Vice President of Academic Services and Lynn McAuliffe, Director of the college's Workforce Development Center. Outgoing City Administrator Carter Napier and Public Works Director Bill Urbigkit and BOCES' Larry Christensen and Barton also attended.

Urbigkit reported that bids would be let in the near future for installation of a 24-inch water main to serve the Job Corps Campus on Griffey Hill NW of Riveron near the airport. He said a two-million gallon water tank and a booster station will be added at the site in the spring of 2012 and that design work is underway to rebuild the Airport Road leading from Highway 26 to the Center, which will also include a bicycle and pedestrian pathway adjacent to the roadway. "We've already completed the utility infrastructure installation at the site through a Wyoming Business Council grant and we've graded the locations for the Energy equipment demonstration sites," he said.

Barton said a partnership between Conoco-Phillips, Devon Energy, EnCana Oil and Gas and Marathon Oil was created to build two demonstration production trains at the Job Corps site, one for oil and one for natural gas. The full scale working models funded by the Energy Partners will be a key portion of the Center's Energy curriculum, which will emphasize the production aspect of energy development.

Barton said the architectural and engineering design work for the campus buildings has been completed.

Barton outlined the history of the Job Corps Center project, which began in 1999 when Fremont County's first unsuccessful attempt to locate a Job Corps center here was launched. A second effort began in 2004. At that time Fremont County BOCES began preparing and eventually submitted a comprehensive solicitation to the Department of Labor in September 2006 to locate a Job Corps Center in Riverton. Six months later, on February 7, 2007, the DOL announced the official awarding of a Job Center to Wyoming, and to the proposed Riverton site. The center is projected to have an initial construction cost of $40 million with an annual operation cost of between $10 and $15-million.

The Eastern Shoshone and Northern Arapaho Tribes of the Wind River Reservation and the City of Riverton were major partners in the process and the City of Lander, the Fremont County Commissioners, Governor Dave Freudenthal's office, the Wyoming Department of Education, Wyoming's Congressional Delegation and others all supported the successful FC BOCES effort.

"Right now there are 320 students from across Wyoming who are attending Job Corps centers in the nine adjacent states because we don't have a facility here," Barton said. "Wyoming will be the last state in the Union to have a Job Corps Center, which is critical to developing a skilled and work-ready workforce for our local industries in need of such trained workers."

Mayor Warpness, Napier and other officials recently returned from Washington, D.C. where they were given a status report on the overall Job Corps project from DOL and Wyoming's Congressional Delegation.

On Thursday in Washington, D.C., the House Labor, Health and Human Services, and Education Subcommittee held a hearing on the nation's job training system where Job Corps was praised. The hearing was focused on duplication and overlap among Federal job training programs. Several subcommittee members entered testimony into the record on the value of the Job Corps program, including Rep. Jack Kingston (R-GA) and Rep. Barbara Lee (D-CA). Rep. Kingston noted that Job Corps utilizes private operators to stimulate competition and better services, suggesting it should be model for the broader workforce system.

For more information contact: Sandy Barton, (307) 856-2028

Source:
Ernie Over
Director of Social Marketing
Wyoming Inc.
P.O.Box 900
Lander, WY 82520
(307) 332-3111 ext 19
(307) 851-0794
eover@wyoming.com
______________________________________________

Editor's Note: The new Wind River Job Corps center will be located on 124 acres of land in northwest Riverton adjacent to Riverton Regional Airport. Job Corps is a federally funded, free education and training program that provides career development services to low income, at-risk young women and men, ages 16 to 24, to prepare and give them training to learn a career, earn a high school diploma or GED, and find and keep a good job. Applicants are identified and screened for eligibility by organizations contracted by the U.S. Department of Labor. In addition to training, Job Corps students receive housing, meals, basic health care, and a living allowance twice a month. Job Corps offers hands-on training in more than 100 career technical areas, including automotive and machine repair, construction, finance and business services, health care, hospitality, information technology, manufacturing, renewable resources, and many more. Job Corps also offers the opportunity to earn a high school diploma or a GED for those youth who don't have either. Courses in independent living, employability skills, and social skills are offered to all Job Corps students in order to help them make the transition into the workplace. For more general information about the Job Corps program, 1-800-733-5627 or go to their website at: www.jobcorps.gov.