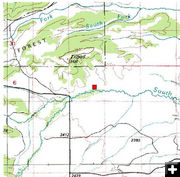 Earthquake Map

Location map of April 1, 2011 earthquake. It was located south of Bondurant, north of Daniel, and west of US 191.


4.1 Earthquake reported north of Pinedale on Friday, April 1, 2011
(Not an April Fool's Day joke)
by Pinedale Online!
Original post April 1, 2011 | Updated April 5, 2011

Editor's Note, 4/5/11: We've updated this article twice since the original post with comments from people who wrote in to say they felt this quake. See the end of this article for the comments.
_________________________________________
Original article, 4/1/11:

The U.S. Geological Survey (USGS) reported an earthquake in western Wyoming on Friday morning, April 1st. The USGS said the quake was located 26 miles WNW of Pinedale; 37 miles SE of Jackson, 36 miles NE of Afton, Wyoming, and at a depth of 3.2 miles.

Te National Weather Service issued a preliminary Earthquake Report which said the quake was felt by residents in the Dubois area, but no damage had been reported.

The Sublette County Sheriff's Office dispatch said they had not received any reports of anyone feeling the quake, however the National Weather Service told them one person south of Bondurant reported feeling it. No damage was reported.

Did you feel it? If so, please let us know where you were when you felt it and if it did any damage. Please e-mail support@pinedaleonline.com.

Click here for more on this quake from the USGS:
http://earthquake.usgs.gov/earthquakes/recenteqsww/Quakes/usc0002gt1.php
______________________________________________

EARTHQUAKE REPORT...PRELIMINARY
NATIONAL WEATHER SERVICE RIVERTON WY
736 AM MDT FRI APR 1 2011

EARTHQUAKE FELT BY RESIDENTS IN THE DUBOIS AREA. NO DAMAGE HAS BEEN REPORTED.

THE NATIONAL EARTHQUAKE INFORMATION CENTER IN GOLDEN COLORADO INDICATED AN INITIAL EARTHQUAKE MAGNITUDE OF 4.1 ON THE RICHTER SCALE CENTERED AT 43.027N 110.343W OR 26 MILES WEST NORTHWEST FROM PINEDALE WYOMING AT A DEPTH OF 3.2 MILES.

THIS EARTHQUAKE WAS REPORTED AT 656 AM MDT FRIDAY.

INFORMATION RELEASED IN THIS STATEMENT IS PRELIMINARY. UPDATES...INCLUDING RICHTER SCALE MAGNITUDE...WILL BE PROVIDED AS MORE INFORMATION BECOMES AVAILABLE FROM THE NATIONAL EARTHQUAKE INFORMATION CENTER IN GOLDEN COLORADO.
_________________________________________

Editor's Update: We received comments from five people saying they felt this quake. Thank you to everyone who responded to our "Did you feel it?" question:

Bondurant area: "I live on Jack Creek 1-1/2 miles off Hiway 191. I was having a cup of coffee when the quake occurred. The house shook for several seconds then a hard bang at the end of it. No damage occurred that I have noticed. This quake was the hardest that we have felt in the 20 plus years we have been here."

7 miles southwest of Pinedale: "…did you feel the quake this morning? I looked it up and there was one between Daniel and Bondurant. 4.1 magnitude."

Hoback Ranches: "I was up & working at my computer this morning at 6:56 AM when the earthquake happened. I felt it. Having been here last summer when another struck I recognized this one for an earthquake. I initially took the quake last summer for a sonic boom but figured out that it couldn't have been such. The house shook with no detectable damage. It woke up (my wife). I reported it to the USGS website a few minutes later this morning. My take on it is that it was very close to my house even if deep."

Hoback Ranches: "I live in Hoback Ranches and felt the quake about 3 or 4 minutes before 7:00 Am. It was just maybe 2-3 second shake but was accompanied by a loud noise like a boom. I talked to 3 other resident's here and they report the same sound. No damage. I reported it on (did you feel it ) to the USGS response. "

Ehman Lane: "I was sitting at my desk at home on Ehman Lane this morning. About 0700 I felt the slightest of tremors. It went thru my head at the time that it might have been an earthquake. It was very slight and lasted less than 1 second. I receive USGS automatic e-mails on earthquakes. About 7:20 I checked my e-mail and sure enough there was the notification of the Daniel earthquake. That confirmed for me that what I felt 20 minutes earlier was indeed an earthquake. I experienced a pretty good earthquake in Alaska about 14 years ago along with some significant aftershocks. Of course what I felt this morning was nothing in comparison. "

Near Hwy 351 & Landfill, 3 miles northeast of Marbleton: "I felt the earth quake, it shook my house and woke me up. I thought it was just a big blast of wind in my half asleep state."