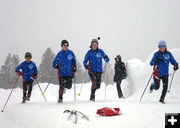 Warming up

Warming up before the race: Oliver Chambers, Clancy Rogers, Elizabeth Chambers, chaperone Jen Gibson, and Zoe Noble. Photo courtesy Bonnie Chambers.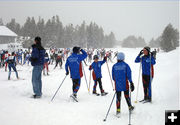 Watching the start

Watching the 25K & 50K racers at the start. Photo courtesy Bonnie Chambers.



Sublette County crew

Some of the Sublette County delegation (left to right): JJ Huntly, Joan Dean, Oliver Chambers, Jar Mortenson, Candy Herda-Scott, Julie Konicek, Zoe Noble, Elizabeth Chambers, Clancy Rogers. Photo courtesy Bonnie Chambers.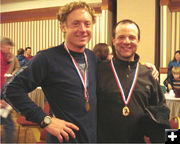 Jason and Tony

Pinedale Jr. Nordic Ski Program Coaches Jason Ray (L) and Tony Chambers (R). Photo courtesy Bonnie Chambers.


Yellowstone Rendezvous Jr. Nordic Ski Races
Pinedale Jr. Nordic ski program and Sublette County locals travel to the Yellowstone Rendezvous 2011 races
by Bonnie Chambers
March 9, 2011

The Pinedale Jr. Nordic Ski Program racers traveled to their final race of the season which was held in West Yellowstone Montana on March 5, 2011. This was the 32nd year for the annual Yellowstone Rendezvous Race, with just under 600 participants, including the Pinedale Junior Nordic Ski Program and several other local residents. Our skiers performed well in these mass-start freestyle races, given the snowfall and barely above freezing temperature for the day. It was a fun day for all with racers ages from 5 to 74 and distances from 2K to 50K.

From the unofficial results and racing by age group:
2K - Oliver Chambers - 10th
5K - Zoe Noble - 4th
5K - Elizabeth Chambers - 6th
5K - Clancy Rogers - 10th
10K - Julie Konicek - 1st
10K - Candy Herda-Scott - 6th
25K - Jar Mortenson - 1st
25K - Joan Dean - 6th

25K CLASSIC:
Coach Jason Ray - 1st
Coach Tony Chambers - 3rd
Noah Kolis (freshman) - 10th
Erik Kleven (sophomore) - 13th

As this Nordic ski season winds down, these racers and the rest of our members will continue to ski for the fun of it through late March. Who can resist such great snow and excellent trail grooming? Next season will start with optional dry-land training in October. Look for a new Nordic Clinic to be offered by our program in December and February next season, geared towards getting adults out skiing and fine-tuning their classic or skating technique, as well as a clinic on wax strategies.

A heart-felt thank you to the Sublette County Recreation Board, the parents, and the travel- chaperones (Ann Noble, Jen Gibson) for making the season a success. We had winners on the podium at every race this season and five new members in the program. Contact Jason Ray at 307-360-6927 or Tony Chambers at 307-360-8850 for more information about this program. "Ski for Fun! Ski for Life!"

Photos courtesy Bonnie Chambers.