J3 Boy's Snowboard - Lower Start

Left to Right: 3rd - Matthew Piros, 1st - Josiah Piros (center), 2nd - David Rule. J3 Snowboard Class, Lower Start GS. Photo by Bob Rule, KPIN 101.1 FM Radio.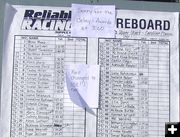 Huge turnout

Because of the huge number of people coming to this event this year, each contestant only got one run.

Record turnout for 2011 Caroline Classic Ski Race
March 14, 2011
190 participants turned out for the 2011 Caroline Classic Ski Race held on Saturday, March 12th. Two events were run during the day on a Giant Slalom course set on the Fremont run at White Pine Ski Area.

Laney Johnston (Sublette County Ski & Snowboard Association) and Andrew Byron (Teton Village Ski Team) were the recipients of the 9th Annual Caroline Classic Award which is given out annually to the fastest female skier and the fastest male skier on the full course.

Click on this link for the final results of the Upper Course (PDF).

Click on this link for the final results of the Lower Course (PDF).

Photos courtesy Bob Rule, KPIN 101.1 FM Radio