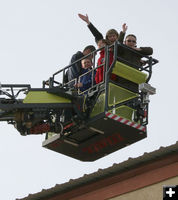 Lift Ride

Pinedale Volunteer Fireman Ron Ruckman gives McKinna and Colton Quirk, and Sean and Taylor Ruckman a ride in the lift of the firetruck Friday evening in preparation for Saturday's open house.

Pinedale Volunteer Fire Department Annual Open House
March 19, 2011
The Pinedale Volunteer Fire Department held their Annual Open House on Saturday, March 19th. They had free BBQ and refreshments, fire engine rides, and safety videos.

Photos by Dawn Ballou, Pinedale Online!