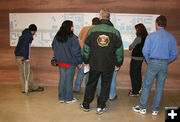 Town Map

WLC Engineering created a town map concepting where the Town would like new lights, benches and trash cans to go.


New benches, lights and trash cans for Pinedale
by Dawn Ballou, Pinedale Online!
March 3, 2011

The Town of Pinedale hosted a Streetscape public workshop at the Pinedale Library on Wednesday, March 2nd. The purpose was to gather public input on options for Main Street benches, street lights and trash cans chosen by the Phase 1 Downtown Master Plan Steering Committee.

Approximately 30 people stopped by to see the options and cast votes for their top three choices from what the Town was offering.

Three local artisans made custom wood benches and submitted them to the Town as possible options. The Town had them on display in the lobby for people to look at and "test sit".

Jeff Hosea, a consultant with WLC Engineering hired by the Town on the Pinedale Downtown Master Plan, said the new benches, lights and trash cans were part of the overall plan to "set the stage for a unique downtown." He said the Town wants to become a destination.

Pinedale Planning & Zoning Administrator, Kate Grimes, said these changes were improvements that would strengthen downtown Pinedale's "identity". Funds for purchasing the benches, lights and trash cans would come through the Mainstreet Project, not from the Town. The Mainstreet group would apply for grants, donations, sponsorships and fundraise to raise money for downtown improvements. The benches cost between $500 to $1800 each.

The Town will announce the choices at a future date.




Related Links