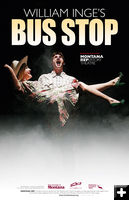 Bus Stop

February 14th at the Pinedale Auditorium. PFAC presentation.


PFAC brings hit comedy 'Bus Stop
Special Valentines production features actors from Montana Repertory Theatre
by Pinedale Fine Arts Council
February 4, 2011

The Pinedale Fine Arts Council is proud to present a special Valentine's production of William Inge's hit theatrical comedy "Bus Stop" on Monday, February 14 at 7:00 p.m. in the Pinedale Auditorium. The play will be performed by actors from the Montana Repertory Theatre in Bozeman and there will be a post-show question and answer session following the production. This performance will mark the first theatrical production presented by PFAC in over six years.

Bus Stop is a warm and affecting hit comedy in which William Inge examines some of the many faces of love. As down-home characters interact in a streetcorner restaurant during the course of a hilariously turbulent night, extraordinary qualities are revealed in seemingly ordinary people. Frustration, tears, and laughter result as characters are forced to confront their own motivations. Romance blossoms, and love banishes loneliness. As Inge demonstrates in this winning tale, a lot can happen in a single night!

For many who grew to awareness in the 1950s, Bus Stop is a classic American story. Marilyn Monroe's entrance in the film version is imbedded in our consciousness. William Inge's biggest hit and his only out-and-out comedy, Bus Stop truly exemplifies America's postwar awakening and introduces characters that have since become new cultural icons.

Inge's American masterpiece still speaks to us in the new century. Rich with character and plot and the message that "we're all in this together," Bus Stop shows that our lives are truly intertwined; we affect each other in subtle and profound ways as we go about our daily lives. Few playwrights are able to make the everyday universal and the commonplace the stuff of great theatre. Inge is one of these playwrights.

Tickets prices for the Feb. 14 performance are $13 for adults and $7 for students (kids under the age of 5 are free). Tickets are on sale now at Rock Rabbit, Pony Express Photo, The Cowboy Shop, Office Outlets, the Big Piney Library and at the door the night of the performance ($2 extra).

As a special Valentine's treat, you can get one free drink with the purchase of an entre at Stockman's Restaurant prior to the show! Just show your waiter/waitress your Bus Stop ticket to receive your free drink (good for Feb. 14 only).

The Montana Repertory Theatre's production of Bus Sop is presented by the Pinedale Fine Arts Council with support in part from the Wyoming Arts Council through funding from the Wyoming Legislature and the National Endowment for the Arts which believes a great nation deserves great art, Sublette BOCES, SCSD #1, the Sublette County Recreation Board, the Rocky Mountain Power Foundation, Shell Rocky Mtn., EnCana and QEP Resources.

For more information please visit www.pinedalefinearts.com or call 307-367-7322. And be sure to find us on Facebook.