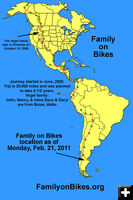 Travel Map

(Map modified with labels by Pinedale Online!)


'Family On Bikes' just 950 kilometers from goal to reach tip of South America
Family of 4 from Boise, Idaho nearing end of 20,000 mile, 2-1/2 year bike journey from Alaska to Argentina
by Dawn Ballou, Pinedale Online!
February 21, 2011

Editor's Note: We first met the Vogel family, a family of four from Boise, Idaho, when they passed through Pinedale in October, 2008. They were on a grand adventure, a 20,000-mile, 2-1/2 year bicycle trek from Alaska to Argentina, the southern tip of South America. The parents, John and Nancy, and then 10-year old twins Davy and Daryl, were taking three bikes, two singles and a tandem, for their long and arduous journey. They started their trip in June, 2008. When they arrived in Pinedale in early October, they got caught in a sudden snowstorm with wind chill values of 10 below zero, so they spent an extra couple of days here to wait for warmer weather. In this latest update, they see the end is near. The twins are now 12 years old. The family battles cold, heat, strong winds, Nancy requiring dental care for a broken tooth, and the near theft of one of their bikes in the middle of the night. See below for their update from Monday, February 21st. Scroll to the end of this article for other updates from their journey after leaving Pinedale. 590 miles to go! See www.familyonbikes.org for more details about their adventure. Below is their latest media release, as well as the e-mail update from Nancy. Click on this link to read about their stop in Pinedale.
________________________________________________

Family on Bikes media release - Monday, February 21, 2011

After nearly three years on the road, the Vogel family of Boise, Idaho is nearing the end of their epic quest. The Vogels – John (56), Nancy (50), Davy (13), and Daryl (13) left Prudhoe Bay, Alaska in June 2008 to cycle to the southern end of the Americas. The family is now a mere 500 miles from Ushuaia, the southernmost town of the world, and expects to reach their destination in mid-March.

To date, the Vogels have pedaled 17,000 miles through fourteen countries. They've crossed North America, Central America, and South America in the 33 months since they left the north shore of Alaska.

The Vogel brothers, twins Davy and Daryl, will have earned a place in the Guinness Book of World Records as the youngest people to cycle the length of the Americas when they reach their goal next month. The current record holder was 18 years old when he arrived in Ushuaia.

The adventurous family travels on three bikes, including one tandem for John and Daryl, and carries everything they need on their bikes. Lashed on to their bikes are tents, sleeping bags, a stove and pot, clothes for all seasons, spare parts and tools, and homeschooling materials for the boys.

More information is available at www.familyonbikes.org. Contact the family for interviews at familyonbikes@gmail.com. Please be aware it may take a few days for a response to emails as they are currently traveling.
________________________________________________

Family on Bikes e-mail update – Monday, February 21, 2011 – By Nancy Vogel

950 kilometers to go. Less than one thousand. Three digits. YEE HAW!

I'm now sitting here in my tent in Puerto San Julian thinking about our adventures of the past month – we've had a lot of them. And I'm thinking forward to that day about four weeks from now when we roll into Ushuaia and declare an official end to our journey. It'll happen – and time is racing these days.

After what seemed like an interminable amount of time in delays in the Bariloche area, we finally pulled out of town determined to keep those pedals turning. That lasted all of one day.

That very evening, as I brushed my teeth, my crown fell out and I looked like the wicked witch of the west with a great big gap where my front tooth should be. As soon as we rolled into El Bolson, I called on the local dentist – and discovered my original tooth had broken off and they needed to completely redo the crown. Five days, minimum.

Our spirits were low as we sat around the campground that night. We moped and pouted and held a full-fledged pity party for ourselves – winter was marching in, and we weren't moving on. If we only knew what was coming, we would have counted our blessings.

It was the middle of the night when John awoke me from a sound sleep. "Nancy!" he shouted in the crowded campground. "Davy's bike is gone!"

I scrambled out of my tent and looked blurry-eyed at where the bikes had been stacked together and carefully covered with a tarp before I had gone to sleep. Now, my bike lay on the ground about ten feet away, and Davy's was gone. Vanished. Disappeared into the night.

The next twenty minutes are a blur in my mind. A mad scramble around the campground looking for the bike, talking with the police, seeing the tire tracks across the dirt road to the fence, and finally – finding Davy's bike unceremoniously thrown into the bushes. John had awoken just as the thieves were stealing the bike and his shouting no doubt scared them off.

We were über-careful for the next few days, making sure the bikes were never out of our sight – not even for one second. At night, they were carefully stacked a few inches from our tent and locked together. And we counted the days til my crown was done and we could push on.

It always seems to happen that, when you most want things to work out, they go wrong. As desperately as we wanted to move on, my crown came back the wrong color and had to be redone. And then redone again. And again. Finally, John and the boys pushed on and I took a bus to catch up once I had been recrowned.

A few days later we pulled into Esquel and suffered from record low temps. We piled on every layer of clothing we had and spent an inordinate amount of time curled up in our sleeping bags. It was cold – not quite down to freezing at night, but it came mighty close. Panic began to set in – if it was that cold in the middle of summer, how could we tolerate fall temps farther south?

Three days later, we were sweating buckets. A major heat wave blanketed the area and temps were over 100°. We lashed massive amounts of water to our bikes and continued on. "How can this be?" we thought. In the span of four days, we moved from record low temps to the highest temps ever recorded in the area. We couldn't wait for the heat wave to pass on.

And pass on it did. A front moved in – complete with those winds Patagonia is famous for. We cycled in the winds for a day as they pushed us from behind. We experienced unheard of speeds as we raced across the continent toward the Atlantic Ocean. "This wind is crazy!" Davy grinned as we stood straddling our bikes on the side of the road waiting for John to catch up. I felt like I was holding back a stallion raring to go – waiting to take off and fly like the wind.

The following day, the wind was even stronger. We sat in our tents listening to the wind shriek and howl through the trees above us. When I looked out through the mesh netting of my tent door, I saw the trees straining to remain upright against the onslaught. We knew we wouldn't be able to, and stayed put – hoping the storm passed quickly.

Since then, we've been blessed. The weather gods have looked upon us with favor and provided mostly tailwinds. We've raced along the Atlantic coast cycling alongside guanacos and rheas. We've enjoyed picnic lunches on the beach. We've made good time and are nearing the end of our journey.

At this point, we have a mere 950 km to cycle to the end of the world. We plan to take our time, see penguins and glaciers, and enjoy these final weeks. We're finally feeling like we'll beat Old Man Winter after all.

I'd like to ask a favor of you all, if you don't mind. I would love to have a big finish to celebrate my boys' accomplishment – but don't have time to do all the legwork myself. Would you mind contacting whatever press outlets you can to let them know we'll be finishing our journey? I've written up a press release and attached it to this email. If you could forward that on to any press contacts you may have, we would really appreciate it.

The next time I write it will be to announce our victory – we'll have reached Ushuaia and the end of the road. Even now, I tear up at the thought of approaching that sign announcing we're at the end of the world. I can only imagine how I'll be feeling that day.

I've been receiving many emails lately thanking us for sharing our journey with the world. But really – I want to thank YOU for supporting us. I can't even begin to convey how much it has meant to us to have the support of so many people from around the world. Just knowing we have that worldwide network to lean on when we need it has given us strength and courage to push on when things have gotten hard. So I say to each one of you – thank you, from the bottom of my heart, for being there with us in thought and spirit.

And so, we push on – to the end of the world! Ushuaia or bust!




Related Links