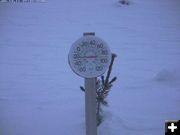 20 Below in Bondurant

It got to 20 below zero in Bondurant on Monday morning, January 10th. The frigid weather is expected to continue for a few more days.

Some locations to see -15 to -25 below zero temperatures, or colder
January 10, 2011
The National Weather Service is advising that widespread subzero lows are expected once again Monday night, January 10th. The basins and valleys of the west and central Wyoming should see lows from 15 to 25 degrees below zero, with some locations even more frigid. Dress very warmly and cover exposed skin when outdoors.

Tuesday through Sunday, January 11 – 16: It will remain very cold on Tuesday over most of the region with high temperatures in the single digits and teens. Warmer temperatures are forecast Wednesday and Thursday.

Periods of snow is expected to occur in the west, possibly heavy at times in the mountains Thursday through Sunday. Stay tuned for updates in the coming days on this change to snowy weather.

Related Links