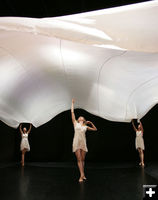 Repertory Dance Theatre

Repertory Dance Theatre will be performing live on Saturday January 22 at 7 p.m. in the Pinedale Auditorium. RDT will be performing "Time Capsule: A Century of Dance." The program is a presentation of the Pinedale Fine Arts Council.


Repertory Dance Theatre performs live in Pinedale Jan. 22
Prestigious company to perform guided tour through a century of dance
by Pinedale Fine Arts Council
January 11, 2011

The Pinedale Fine Arts Council is proud to present Repertory Dance Theatre (RDT) performing live on Saturday January 22 at 7 p.m. in the Pinedale Auditorium. RDT will be performing "Time Capsule: A Century of Dance."

A guided tour through the 100 year legacy of dance, Time Capsule incorporates RDT's prestigious repertory into an informative multi-media retrospective, paying homage to the ingenuity, creativity and inventive spirit of legendary 20th century choreographers. From the Founders of modern dance, through the Avant Garde and Post-modern, to contemporary choreographers of today, "RDT follows the development of American dance…with such total identification and vivacity that one could believe they actually were the pioneers of those early days with their passion for uprising and revolt against the conventions of the classics." (Linda Zamboni, Die Presse, Vienna).

Highlights from the program include excerpts from Isadora Duncan's Valse Brilliante, Doris Humphrey's Soaring, Daniel Nagrin's Strange Hero, José Limón's There Is A Time, Anna Sokolow's Lyric Suite, and Shapiro & Smith's Dance for Two Army Blankets.

Utah's Repertory Dance Theatre was founded in 1966 as a fully-professional modern dance company through a cooperative effort involving the Salt Lake City community, the University of Utah and a major grant from the Rockefeller Foundation.

Today, RDT continues to fulfill its high initial expectations. It is the oldest and most successful company of its kind, a living museum representing one hundred years of dance history, preserving the largest and most significant collection of American dance in the world. RDT acquires classic works by significant twentieth century choreographers and also commissions new works for its prestigious repertory.

Tickets prices for the Jan. 11 performance are $13 for adults and $7 for students (kids under the age of 5 are free). Tickets are on sale now at Rock Rabbit, Pony Express Photo, The Cowboy Shop, Office Outlets, the Big Piney Library and at the door the night of the performance ($2 extra).

Repertory Dance Theatre live in Pinedale is presented by the Pinedale Fine Arts Council with support in part from the Wyoming Arts Council through funding from the Wyoming Legislature and the National Endowment for the Arts which believes a great nation deserves great art, Sublette BOCES, SCSD #1,Western Sublette BOCES #9, the Sublette County Recreation Board, the Rocky Mountain Power Foundation, the Western States Arts Federation (WESTAF), Shell Rocky Mtn., EnCana, QEP Resources and Wells Fargo.

For more information please visit www.pinedalefinearts.com or call 307-367-7322. And be sure to find us on facebook.