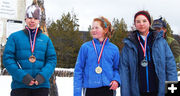 Sarah, Zoe, Elizabeth

Pinedale Junior Nordic skiers racing at the Pinedale High School Nordic event. From left to right: Sarah Andrews (3rd place, Jackson), Zoe Noble (1st place, Pinedale), Elizabeth Chambers (2nd place, Pinedale) 2 kilometer Freestyle, Girls J4. Photo by Bonnie Chambers.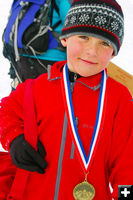 Oliver Chambers

Oliver Chambers, won 1st Place in the Boys J5 Freestyle in the Nordic races hosted by Pinedale High School in early January. Photo by Bonnie Chambers.


Scroll down for more pictures.
Junior Nordic skiers compete
January 23, 2011
Racers from the Pinedale Junior Nordic Ski Program have been competing in Nordic races held locally and out of town.

Pinedale High School hosted a two-day event on January 7th & 8th. Junior racers traveled from Jackson, Medicine Bow, Casper, and Teton, ID to participate in the two day event.

Racing from the Pinedale club in the Pinedale Nordic event were Clancy Rogers, Elizabeth Chambers, Zoe Noble, Finn Hogan, and Oliver Chambers. Both racing for the first time, Clancy placed 6th out of 12 in the Boys J4 Classic and Finn placed 6th in the Boys J3 Classic. Oliver Chambers, in the Boys J5 class, took 1st place in both the Classic and Freestyle, with the same finish time as the J4's 2nd place Freestyle winner. Elizabeth and Zoe skied strong in the Girls J4 Classic, respectively placing 4th and 5th out of 7 racers. In the Freestyle, both girls brought home medals with Zoe taking 1st place and Elizabeth taking 2nd place.

On January 15th, the Nordic team competed in Wilson in the Johnny Curtis Memorial Junior National Qualifier hosted by Jackson Hole Ski Club. Intermountain Division racers traveled from Sun Valley ID, Bozeman MT, Salt Lake City UT, and Teton, ID to participate in the weekend events. The venue proved a real waxing challenge with just above freezing temperatures, gusty winds, and intermittent rain and snow.

Racing from the Pinedale club were Clancy Rogers, Elizabeth Chambers, Zoe Noble, Faith Friend, and Oliver Chambers. This was Clancy's second time racing, skiing both the 3k Boys J4 Classic and Freestyle. Elizabeth, racing Girls J3, placed 2nd in Classic and 1st in Freestyle and Zoe placed 3rd in Girls J3 Freestyle. This was Faith's first race experience, and she finished the Girls' 1.5k Freestyle. Oliver Chambers, skiing Boys J5, placed 1st place in Classic and 3rd in Freestyle, racing against eight other J5s.

At the end of January, the team, coaches and dedicated parents will travel to Utah and compete in another Intermountain Division Qualifier at Soldier Hollow then travel to West Yellowstone, Montana early in March. Until then, the racers will continue skiing Tuesdays and Thursdays with the rest of the club at Kelly Park and White Pine.

Thank you to Bonnie Chambers for photos and Nordic ski information.