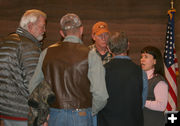 Jacequeline Buchanan

Bridger-Teton National Forest Supervisor, Jacqueline Buchanan (R), is the Decision Maker on this project.

Eagle Prospect Noble Basin public meeting
Proposed oil and gas drilling in the Wyoming Range
January 23, 2011
Approximately 200 people attended a public meeting in Pinedale on Thursday, Jan. 20th, about the Draft Environmental Impact Statement for the Eagle Prospect and Noble Basin Master Development Plan Project.

Plains Exploration & Production Company proposes drilling of up to 136 oil and gas wells on National Forest lands about 7 miles southeast of Bondurant on the Big Piney Ranger District of the Bridger-Teton National Forest.

Bridger-Teton National Forest Supervisor Jacqueline Buchanan told the audience the decision to allow the drilling was made in 1994 when the BLM authorized the leases for sale. Her decision is not 'should we drill or not drill' there, but rather how to allow this surface operation to proceed. Fourteen people spoke during the public comment session.

The meeting was held in the Lovatt Room of the Pinedale Library. Representatives of the company, the contractor writing the EIS, as well as Forest Service resource specialists for wildlife, air and water quality were on hand to answer questions.

Public comments are being accepted until March 11, 2011.

Photos by Dawn Ballou, Pinedale Online!