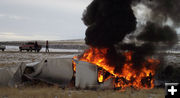 Truck on fire

A semi-truck carrying furniture overturned on Interstate 25 south of Kaycee in eastern Wyoming on January 8th. Former Pinedale resident Bernie Holz was first on the scene and acted quickly performing a dramatic rescue of two men trapped in the burning truck. Photo by Madison Belus.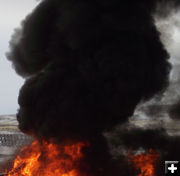 Fireball

A fireball shot high in the air when the semi-truck crashed. Photo by Madison Belus.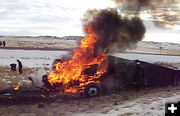 Rescuing passenger

Bernie Holz (L) drags the second passenger away from the burning semi-truck. Photo by Madison Belus.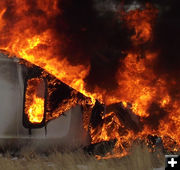 Engulfed in flames

Approximately 15 seconds after the second passenger was rescued from the sleeper cab of the truck, it became engulfed in flames. This view is looking at the top of the truck cab (laying on its side), with the sunroof exit hole on the left side of the picture.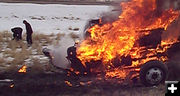 Narrow escape

Closer view of Bernie Holz dragging one of the passengers from the wreckage of the burning truck with only seconds to spare before the cab became fully engulfed in flames.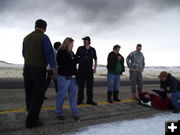 Waiting for help

Benard Holz (far left) stands next to Pam Belus and a few other people comforting truck passenger, John Roller (correction, John Oller) as they wait for emergency responders to arrive on the scene. Quick-thinking bystanders used a ramp from a bread delivery truck as a back board for the victim who complained of back pain. The second driver, Richie Petrillo-4th from the right, wears Bernie's borrowed boots and someone else's loaned coat for warmth. The other people in this photo remain unidentified. Photo by Madison Belus.





Scroll down for more photos.




An act of heroism by former Pinedale resident Bernie Holz
Semi-truck crash, fire, and dramatic rescue
by Dawn Ballou, Pinedale Online! Accident photos by Madison Belus
Original post January 11, 2011 | Updated January 16, 2011

Editorís Update, Sunday, January 16, 2011: Weíve added additional information about this story. Scroll to the end to see the new information.
_________________________________________
Original post: Tuesday, January 11, 2011:

On Saturday morning, January 8th, former Pinedale resident Bernie Holz found himself one of the first passer-bys on the scene of a semi-truck accident and fire in eastern Wyoming and having to make a split-second decision to try and rescue two men who were trapped inside the sleeper cab of the burning vehicle.

Holz and two companions, Pam Belus and her 13-year old daughter, Madison, were on their way from Sheridan to Casper to a ski meet to watch Holzís son, Gus. They were south of Kaycee on Interstate 25 when they saw an explosion about ľ mile on the road ahead of them.

"There was a big fire ball. It went up 50 feet or more. Pretty high even at ľ mile away," Holz said.

They were the first ones to arrive at the scene of an overturned semi-truck on its side in the median, its load of furniture visible inside the split open trailer. The cab of the truck was on fire and flames were coming out of the undercarriage of the vehicle.

As Pam Belus called 9-1-1, Holz grabbed his gloves and ran to the burning vehicle. A man, whom Holz presumed to be the driver, was beating on the sunroof window with a shovel trying to break out the glass. Together, the two men were able to finally break the window. The smoke and flames inside the sleeper cab intensified with the opening of the sunroof window.

Trapped inside the truck cab were two men. One said he was hurt and couldnít move his legs. The other man, not wearing a shirt or shoes, hesitated about getting out the window, fearful of getting cut on all the shards of broken glass. Holz told him, "If you don't get out now, both you and your friend are going to die!"

With Holzís help, the man slid out of the broken window, scratching and cutting himself on his shoulder and feet. He ran up the hill to the road where another vehicle had stopped and he sat on the tailgate getting help from the bystanders.

The second man was still inside the sleeper, so Holz turned his attention to try to get him out. Thick smoke filled the opening. The man screamed he couldnít see or breathe. He said he couldnít move his legs and his back hurt.

"I knew I had to get him out somehow," Holz said, "He was in a lot of pain." The man somehow moved himself closer to the window.

"I reached my head, arms and shoulders inside the window and grabbed him and pulled him out and got him as far away from the burning truck as I could get him by myself," Holz said.

The victim was still afraid they were too close to the burning truck.

"Within about 15 seconds from when I got him clear of the truck the whole sleeper was engulfed and flames were coming out of the exit hole I had pulled him out of," Holz said.

Holz was able to move the man further away from the burning truck wreckage. The man was in a lot of pain and said his back hurt. A man who was driving a Sweetheartís bread company truck grabbed one of the metal truck ramps as a make-shift backboard. Holz and the man carefully lifted the injured man onto the ramp backboard and carried him a safe distance away to the side of the road.

Holz gave the shoeless man his over-boots and someone else gave him a jacket. The only thing he could remember was his name.

"The three men were coming from Florida and were almost to their destination, which was Sheridan, Wyoming. The driver said he had started to doze off and the only thing he remembered was feeling a bump and hitting his head on the window. The driver had only a few cuts on his hands and slightly hurt his head," said Madison Belus. 13-year old Madison had the presence of mind to grab her camera and take pictures to document the dramatic rescue.

"By then several vehicles had stopped with people helping. One man seemed to be an EMT or someone trained as a first responder," Holz related. "Then the Wyoming Highway Patrol came. We could see more lights from more emergency help on the way," Holz said.

Asked if he had made a statement to the officers, Holz said he realized he hadnít. " The Highway Patrolman was busy on scene making the highway safe for passing motorists as his first concern. I knew whatever useful part I had was over". Confident there were enough people and officials on the scene to take care of things from there, Holz and his companions left to continue on their way to the Casper ski meet.

According to Sgt. Stephen Townsend, Staff Coordinator with Wyoming Highway Patrol, the first call reporting the crash came in at 8:45 am Saturday morning. It occurred on the northbound lane of Interstate 25, at milepost #236 approximately 18 miles south of Kaycee.

Troopers responded, as did the fire departments from Kaycee and Midwest, Sgt. Townsend said. The northbound side of the Interstate was closed for approximately seven hours while the crash debris was cleaned up. The driver, 44 year-old John J. Belle from New York, stated to investigating Troopers that he fell asleep. He was cited for failure to maintain his vehicle within a single lane and for driving a commercial vehicle while fatigued.

The two passengers in the truck tractorís sleeper were John A. Roller (Update: this man is John A. Oller), 46-years of age, and 49-year-old Richard Petrillo, both from Nevada. All three victims were taken to Wyoming Medical Center in Casper, according to Sgt. Townsend. Roller (Update name correction, John Oller) was Life-Flighted from the scene, and Belle and Petrillo were transported by ground ambulance.

As of the time of this article, no information was available as to the extent of the injuries any of the three men received for which they received treatment at the hospital. A spokeswoman from Wyoming Medical Center confirmed Monday that none of the three men were in their hospital as of Monday evening.

"It was kind of wild," Holz said. "You get tunnel vision in emergency situations, then afterwards recall what happened. Thank goodness the fire wasnít any worse or quicker."

In September, 2010, Holz retired from the Wyoming Game and Fish Department after more than 27 years of service with the agency. He began his Game & Fish career in 1983 in Cheyenne. In 1989 he transferred to Big Piney, Wyoming as game warden and in 1995 was promoted to regional supervisor for the Jackson/Pinedale district. In 2008, the district was split and Holz stayed in Pinedale as regional supervisor, serving until his retirement in the fall of 2010. After his retirement, he moved to Sheridan, Wyoming, where he currently resides.
_______________________________________________

Editorís Update, Sunday, January 16, 2011: Since writing this story, additional details have emerged. Weíve learned that the truck involved was a moving van carrying the household contents of several families. The truck originated in Florida and was headed from California with several loads to drop off in various states along the way back east. The three men inside had just recently met and were on their first trip together for the moving and driving job. Two were from Las Vegas, Nevada, and one was from New York. One of the furniture loads inside belonged to a couple who had just moved from Las Vegas to Sheridan, Wyoming. All of their belongings were destroyed in the fire from the crash. Both the husband and wife are doctors. When asked if they needed anything, they said that while they were devastated and will have to rebuild everything, they will be ok. They were glad that all the people involved survived.

The third man who was involved in the crash called from the hospital to relate more of this story. He corrected his name from what was in the Wyoming Highway Patrol report. He is John Oller, not Roller, from Las Vegas, Nevada. He is still in Wyoming Medical Center in Casper undergoing extensive physical therapy for a broken back and broken rib. He will have to remain in the hospital for 3-6 weeks to learn to walk again. He has regained the feeling in his legs, but is walking with a walker. He was in the top bunk of the sleeper when the accident occurred, trying to get to sleep before his turn of driving. The privacy shade was zipped closed making the room dark, so he didnít see what happened. He felt the truck swerve and hit something and knew they were going to crash. He said the truck was on fire before it stopped. Something shifted in the crash and he lost all feeling to the lower half of his body and couldnít feel his legs. "John (the driver) tried to grab that glass with his bare hands," Oller said. His companion in the truck, Richie, hesitated in getting out due to all the broken glass. Oller said Bernie told him if he didnít get out now, both of them would die. Oller said, "Iím lucky to be alive. There were so many selfless acts of heroism by many people that day." He said he has many weeks of therapy left to fully recover but, "Iím going to walk out of here. If it werenít for Bernie, I donít know that Iíd be able to do that." Oller said he wants to someday meet Bernie Holz and shake his hand. He would also like to meet and shake the hand of the second man who helped and comforted him after the accident, but this person remains unidentified.
_______________________________________________

Special thanks to Bernie Holz, Pam Belus, Madison Belus, and Wyoming Highway Patrol Sgt. Stephen Townsend for their contributions to this article. Accident photos by Madison Belus.