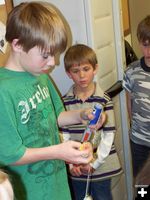 Thomas Mack

Thomas Mack explains to members about his Aerospace project as Colten Gehlhausen and Grant Fornstrom look on. Photos courtesy Ranae Lozier, 4-H Volunteer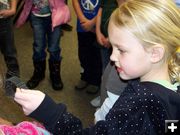 Janae Arne

Janae Arne learns about the 4-H Robotics program and holds a track to a robot. Photos courtesy Ranae Lozier, 4-H Volunteer.


4-H Club Cloverbuds meet
Kindergarten through 3rd grade youth program
by Ranae Lozier, 4-H Volunteer
January 13, 2011

The Sublette County Cloverbuds met last night (Wednesday, January 12, 2011) for their 3rd meeting of the year.

The meeting started off with 3rd year member, Thomas Mack, demonstrating his 4-H Projects; Aerospace and Robotics. Thomas programmed his robot for an exciting demonstration for the 5-7 year old members. He also described how he works with his Aerospace project (Rocketry) by using different sizes of motors that power the rocket.

Members followed up the presentation with an activity on the 4-H Program section of Character Counts!, Trustworthiness and a fun balloon game. 4-H incorporates the Character Counts! program that teaches youth about 6 pillars of character that help them make sound moral judgments.

The 6 pillars are: Trustworthiness, Respect, Responsibility, Fairness, Caring and Citizenship.

In 4-H, Character Counts! strives to show each member to be a person of Character and that Character Counts EVERYWHERE…ALL THE TIME!!!!!!

After healthy snacks and pledges to the American and 4-H flag, the members colored pictures to send to troops overseas.

The next meeting for the Cloverbuds will be Wednesday, February 9th where members will participate in the annual Share The Love Food Drive.
_______________________________

For more information call 307-367-4380.