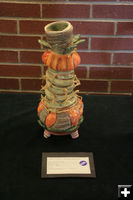 Twisted for Life

'Twisted Life' by Lisanne Fear was one of the student arts pieces produced during the PFAC Steve Schrepferman residency which brought home state art honors. Photo courtesy PFAC.


PFAC Student Art Show May 27
by Pinedale Fine Arts Council
May 21, 2010

The Pinedale Fine Arts Council is proud to present an evening art show featuring work produced by Pinedale High School students during PFAC's Steve Schrepferman residency this past school year. The art show will be held Thursday, May 27, 2010 at the Sublette County Library from 5 p.m. to 7 p.m. The show is free and refreshments will be served.

In January, Cody ceramist Steve Schrepferman visited both the Pinedale and Big Piney school districts to conduct a ceramics residency that focused on fusing creative ideas and concepts into traditional clay work. Students were able to produce, and later add color to their own original pieces. Many of these pieces produced during the residency were entered into state art competition with four of the pieces bringing home ribbons. When he wasn't working in the schools, Schrepferman also worked with local community members during evening ceramics classes held at Rendezvous Pointe.

Work from Pinedale students as well as community members will be on display at the May 27 show which will also coincide with the Pinedale Elementary art show which will feature art produced by students grades K-4.

In addition to the art show itself, PFAC will also announce the winner of the 2010 Millenium Arts Award, an annual award given to a PHS art student based on their concept for a small sculpture.

Visit www.pinedalefinearts.com for more info or call 307-367-7322.