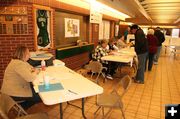 Pinedale Voting

Voting for the Rural Health Care mill levy in the commons of the Pinedale School Gymnasium building.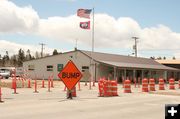 Just try to vote today

Road digging and construction work, and traffic diversions, made reaching Pinedale Town Hall to vote on election day.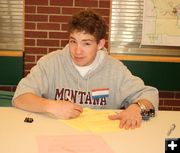 Ryan McKee

Ryan McKee, a Junior at Pinedale High School, volunteered to help with the elections Tuesday for community service. Ryan helped check in voters at the Pinedale school complex to vote on the Rural Health Care mill levy question. Asked what he thought about the voting process, Ryan responded, "It's cool to see government work at a local level." Several Pinedale National Honor Society students also volunteered to help with the elections for community service.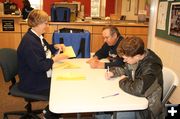 Counting Rural Health Votes

Tallying Rural Health Mill Levy votes (Left to Right) Roxanna Jensen, Gary Neely and Matt McKee tally votes for and against the Rural Health Care District mill levy proposal Tuesday evening at the Sublette County Courthouse. Polls closed at 6:00 PM to vote on this measure. Ultimately, the mill levy increase proposal failed by a margin of almost 3 to 1.


May 4, 2010 - ELECTION RESULTS
Pinedale Municipal elections, Pinedale Lodging Tax, and Sublette County Rural Health mill levy proposals
by Dawn Ballou, Pinedale Online!
May 4, 2010

Scroll down past these updates for the vote tally on the three elections. All results are in now. Numbers are still unofficial until declared official by the election judges.

11:15PM Update: We are curious to know our viewer thoughts as to why they voted against the Rural Health mill levy increase request. If any of you would care to share your thoughts as to why you voted against it, we'll compile the results in an anonymous way and post a the answers in a follow-up story. Your name will not be included as part of the story. We're just interested in the honest answers of why people said no to the Rural Health Care District on this one. Please send comments to: dawn@pinedaleonline.com

10:30PM Update: We've added some photos from election day into this story. Scroll down to view.

8:40PM Update: Incumbents retain seats for Pinedale Mayor and Town Council.

Steve Smith-Mayor
Chris House & Dave Hohl Town Council seats.
363 Total ballots cast at Pinedale Town Hall.

Pinedale Municipal election unofficial results (PDF)
Hot off the press numbers from Pinedale Town Clerk Patty Racich in phone call to Bob Rule, KPIN Radio, and relayed to us here at Pinedale Online. We have not received an official printout yet showing results from the Town of Pinedale. Scroll down this page for vote numbers for this election.

8:15PM Update: Pinedale Lodging Tax PASSES. Rural Health Care District Mill Levy FAILS.
Rural Health Care District Results (PDF)

Town of Pinedale Lodging Tax Results (PDF)

7:45PM Update: Nothing new to report at this time.

6:42PM Update: We just came back from the courthouse and election judges are now starting to count the ballots on the Rural Health Care District 2% mill levy proposal. Polls closed at 6:00PM for that initiative. Polls are open until 7:00 PM on the Pinedale Municpal elections and lodging tax proposal. Keep checking back to this page for the election results. We'll post information as soon as it comes in. Do a Shift or CTRL Refresh in your browser to make sure you are seeing the most current version of this page. Election results are also being broadcast live by Bob Rule on KPIN 101.1 FM Radio throughout the evening until all the results are in.

************* UNOFFICIAL RESULTS *************

TOWN OF PINEDALE GENERAL ELECTION:
363 Total votes cast.

MAYOR
4-Year term
Gary Heuck: 145
Stephen B. Smith: 203

TOWN COUNCILPERSONS:
(Two positions open, 4-Year terms)
David G. Hohl: 170
Larry (Chris) C. House: 206
Timothy L. Lingle: 127
David Vlcek: 155

TOWN OF PINEDALE 3% LODGING TAX: PASSES
"Shall the Town of Pinedale be authorized to impose a 3% lodging tax on hotel, motel, tourist courts, trailer parks, campgrounds, short term condominium rentals and similar establishments providing sleeping accommodations to transient guests as permitted by Wyoming Statute 39-15-204?"
FOR: 214
AGAINST: 149

TOTAL VOTES CAST: 363
REGISTERED VOTERS: 815
TURNOUT: 45%

SUBLETTE COUNTY RURAL HEALTH CARE DISTRICT SPECIAL ELECTION FOR 2 MILL LEVY: FAILS
"Shall the Sublette County rural Health Care District mill levy be increased from two (2) mills to four (4) mills to provide additional funding to support emergency medical services (EMS) and other healthcare services of the District?"
FOR: 384
AGAINST: 994

TOTAL VOTES CAST: 1,378
REGISTERED VOTERS: 4,441
TURNOUT: 31%

Photos by Dawn Ballou, Pinedale Online! Thank you to Mary Lankford, Sublette County Clerk, Patty Racich, Pinedale Town Clerk, and Bob Rule, KPIN 101.1 FM Radio for their contributions to this report.