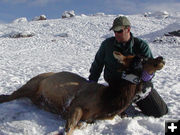 Brandon Scurlock

Pinedale brucellosis biologist Brandon Scurlock holds a tranquilized elk waiting for the reversal drug to take effect. Photo by Eric Maichak, Wyoming Game and Fish Department.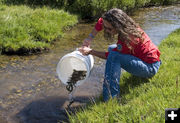 Hilda Sexauer

Pinedale Fish Supervisor, Hilda Sexauer, stocks native Colorado River cutthroat trout to a tributary of LaBarge Creek. Photo by Mark Gocke, Wyoming Game and Fish Department.


Game and Fish honors Pinedale Biologists
Brandon Scurlock and Hilda Sexauer named Employees of the Year
by Wyoming Game and Fish Department
May 19, 2010

PINEDALE - The Wyoming Game and Fish Department recently named a pair of Pinedale biologists, Brandon Scurlock and Hilda Sexauer, as their annual Employees of the Year in their respective divisions.

Wyoming Game and Fish Brucellosis Biologist Brandon Scurlock was selected for the statewide honor on behalf of the agency's Wildlife Division. Scurlock started with the Game and Fish Department in 2002 as a Brucellosis-Feedgrounds-Habitat biologist and was promoted to the supervisor of that program in 2004.

In his current position, Scurlock has supervised numerous studies greatly improving the department's knowledge of brucellosis on elk feedgrounds. Many of these novel studies have utilized relatively new technologies such as GPS collars, proximity collars that record elk-elk contacts and Vaginal Implant Transmitters (VITs) that are expelled during births or abortions.

During Brandon's tenure with the department, he has been largely instrumental in the capture of nearly 5,000 elk for these research projects and the Pinedale Elk Test and Removal project. He has supervised the deployment of nearly 400 VITs, 120 proximity logger collars and over 100 GPS collars.

The results of Scurlock's research have led to changes in the department's management of brucellosis and elk feedgrounds. In 2008,Scurlock launched the implementation of the Target Feedground Project, a shorter-duration, low-density feeding experiment shown to reduce elk contacts with aborted fetuses and therefore prevalence of brucellosis. This new disease management strategy is directly tied to quality habitat as well and Brandon has been instrumental in numerous habitat enhancement projects throughout the Pinedale and Jackson Regions.

"Brucellosis and elk feedgrounds are one of the more complex and controversial wildlife management challenges," said Wildlife Division Assistant Chief Scott Talbott. "The wide variety of stakeholders includes livestock producers, outfitters, conservation groups, veterinarians and a number of resource management agencies. Brandon's integrity and professionalism have allowed him to work successfully with all of them, which says a lot. He is very deserving of this award."

Brandon currently lives in Pinedale with his wife, Janel, and daughter Lauryn.

Pinedale Fish Supervisor Hilda Sexauer was recently honored as the 2009 Fish Division Employee of the Year. After stints as a fish biologist with the Yakama Indian Nation and Okanogan National Forest in Washington state, Hilda started her Wyoming Game and Fish career as fish biologist in Pinedale in 1996. She was then promoted to the Pinedale Fish Supervisor in July 2003.

Among Sexauer's significant accomplishments is the recent successful completion of the largest fish restoration project ever launched in Wyoming. It involved restoring some 58 stream miles of LaBarge Creek and its many tributaries back to its native Colorado River cutthroat trout.

The project actually began with a series of public meetings in 1999 and has now been stocked with native cutthroats the past three summers. The Colorado River cutthroat has steadily diminished across its range and was petitioned for listing as an endangered species in 1999. The listing was deemed unwarranted, thanks in part to projects like this helping to restore the sport fish to its native range.

"Hilda is always quick to recognize the many partners on this substantial project, but clearly she has been the driving force that made this project the success it is today," said Fish Division Assistant Chief Mark Fowden. "In addition to her fish management duties, Hilda has also been an active member in the American Fisheries Society, specifically the Colorado-Wyoming Chapter. She is a great asset to our agency and Wyoming's aquatic resources."

Hilda is a native of Ste. Genevieve, Missouri. She enjoys many outdoor activities with her husband, Dave, including working and hunting with their pointing dogs in Pinedale.