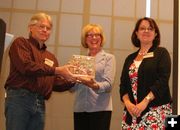 Preserve Wyoming Award

(L to R): Clint Gilchrist, Bobbi Barrasso-wife of Wyoming Senator John Barrasso, Mary Hopkins-Wyoming State Historic Preservation Officer.


Clint Gilchrist honored at Preserve Wyoming conference
Given a Preserve Wyoming historic preservation award
by Dawn Ballou, Pinedale Online!
May 17, 2010

Pinedale resident Clint Gilchrist was recognized with a Preserve Wyoming award on May 14th at the 2010 Preserve Wyoming conference which was held in Evanston, Wyoming Friday and Saturday, May 14-15. Three individuals and one organization received awards during the banquet at the conference. The awards were presented by Bobbi Barrasso, wife of Wyoming Senator John Barrasso.

The historic preservation conference is an annual gathering of historical and cultural resource professionals. It was sponsored by the Wyoming Department of State Parks & Cultural Resources, National Trust for Historic Preservation, University of Wyoming, Wyoming Main Street, City of Evanston, Evanston Main Street. Conference partners were the Alliance for Historic Wyoming, Wyoming State Historical Society, the Wyoming Business Council, Tracks Across Wyoming, and the Cadoma Foundation.

Mary Hopkins, Wyoming State Historic Preservation Officer, said, "Mr. Gilchrist is well known throughout Sublette County and Wyoming for his outstanding support of historic preservation and cultural heritage. He has served on the Sublette County CLG (Certified Local Government) and Vice President of the Museum of the Mountain Man Executive Board and is the head of the Pinedale Anticline Working Group Cultural Task Force and is also an Archaeological Site Steward for the Wardell Buffalo Trap. As one of the most knowledgeable people on local history in the county, Clint is always willing to share information. He has volunteered literally hundreds of hours per year of his time helping document and inventory technical resources. He has been a key player in the Museum of the Mountain Manís Journal and book publications, as well as museum displays. He has represented the Sublette County CLG and the Museum of the Mountain Man during frequent negations being conducted for Section 106 process of the National Historic Preservation Act. His interest in work with cultural resources, such as his original research of new ferries on the Lander Trail, has served to support existing Bureau of Land Management and State of Wyoming programs. As the Pinedale Anticline Working Group Cultural Task Force Chairperson he has championed the careful management of federal agency cultural resources that are threatened by energy development. I am pleased and honored to present Mr. Clint Gilchrist with a Preserve Wyoming award for his commitment to historic preservation in Wyoming."

Historic preservation awards were also presented to Carolyn Buff with the Wyoming Archaeological Society, Dave Reetz-President of the Powell Valley Economic Development Alliance, and to the Fort Bridger Historical Association.
____________________________________________

Editorís Note: Disclosure - Clint Gilchrist and Dawn Ballou are co-owners of this PinedaleOnline.com website.