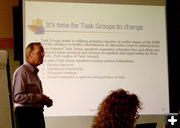 BLM Consultant Don Maruska

The BLM brought in consultant Don Maruska to advise them on a plan which would significantly change how PAWG gets input from the public to advise them on their decision-making process. The BLM's new plan has BLM screening qualifications of the public to determine who is "qualified" to provide input to PAWG members and able to particpate on sub groups. In the past, anyone who was interested in a topic was encouraged and welcome to participate on any of the PAWG Task Groups.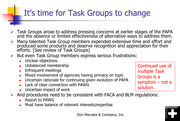 Time for Task Groups to Change

The BLM's consultant, Don Maruska, told the PAWG, "Continued use of multiple Task Groups is a symptom Ė not a solution."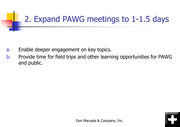 Much longer meetings

The BLM says expanding meetings to 1 to 1-1/2 days will "enable deeper engagement on key topics." The issue of how public volunteers and the media would be able to have time to attend these much longer meetings was not addressed.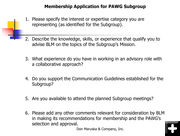 New Sub-Group Application

The new Sub Group application form for public participation screens by asking potential participants to "Describe the knowledge, skills, or experience that qualify you to advise BLM on the topics of the Subgroupís Mission."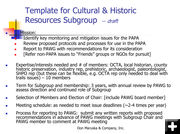 New Cultural Sub Group

The BLM wants to disband the current PAWG Cultural/Historic Task Group and reform a Cultural Sub Group that would screen who could participate and require people to commit to 3-year membership terms.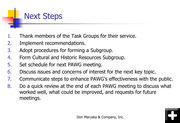 PAWG Next Steps

The BLM recommends the #1 "Next Step" for PAWG is to "Thank members of the Task Groups for their service," disband their groups, and encourage their continued participation with the responsible regulatory agencies.


BLM recommends dropping PAWG Task Groups
Pinedale Anticline Working Group votes to defer decision
by Dawn Ballou, Pinedale Online!
May 10, 2010

The Pinedale Anticline Working Group held a regular meeting on Thursday, May 6th at the Pinedale Bureau of Land Management office.

At that meeting, BLM Acting Pinedale Field Manager Brian Davis, and BLM consultant Don Maruska from California, presented PAWG members with their proposal to move PAWG "in a new direction to redefine their purpose."

That new plan includes eliminating all of the PAWG Task Groups: Water Resources, Wildlife, Air Quality, Reclamation, Socioeconomic, Transportation, and Cultural/Historic. Only Cultural/Historical would be reformed. Reclamation could be reformed later, if needed, as a short-term "sub group". Socioeconomic and Transportation functions would be left to State and County governments. The functions of the other Task Groups would be absorbed into the review duties of the ten PAWG members.

Maruska said, "It is time for Task Groups to change." According to his presentation, "Continued use of multiple task groups is a symptom Ė not a solution."

Maruska said Task Group procedures need to be consistent with the FACA (Federal Advisory Committee Act, http://www.gsa.gov/Portal/gsa/ep/contentView.do?contentType=GSA_OVERVIEW&contentId=9673) and BLM regulations so that they only report to PAWG. They are also required to have a balance of relevant interests and expertise.

Maruska said the BLM sees issues with the membership of the subgroups. He said it is implicit, since they come under the PAWG which is a FACA group, that "You have to have balanced and appropriate representation." Maruska and Brian Davis both said they have heard comments from industry and members of the public expressing concern that the Task Groups are not balanced and might be being driven by industry, environmental groups, or someone else.

Brian Davis said the PAWG and Task Groups sometimes lack focus on the topics different from what the BLM Field Manager wants. He is concerned they have not always been compliant with FACA and he doesnít want to have the PAWG charter cancelled. "The other thing I donít want task groups or working groups to be, is I donít want them to be fighting the issues. I want them to be representing that science back to this board, so that this board can be the forum to get it out to the public within the FACA charter and under their role" as a Resource Advisory Council.

Davis said it is the BLMís responsibility to rein in the Task Groups because the BLM is responsible for this Resource Advisory Council, since they created it. "Iíd hate to see it jeopardized," Davis said, "because they violated the FACA or they werenít bringing the right people to the table".

The BLM contends they are not responsible for air quality, socio-economic, transportation or water issues because other federal and state agencies are the "lead agencies" for responsibility on those issues. BLM claims management responsibility only for wildlife (habitat management), cultural/historic resources, and reclamation. The new direction "is an effort to have more focused and productive discussions and advice to the BLM about issues over which they (the BLM) have responsibility," Maruska said.

According to the BLMís recommendation in moving forward, the #1 Next Step in the new direction is to terminate all the current Task Groups. "The implementation of all this would be, as outlined, to be sure to thank the Task Group members for their service and encourage their continued engagement with the PAWG and responsible agencies," Maruska said.

The current Cultural/Historic Task Group would be disbanded and is the only public input expertise group that would be reincarnated. It would be reformed as a new 10-member "sub group." Under the BLMís recommended new direction, there would be a selection process which gives the BLM authority over approval of the members of any new sub group the PAWG might wish to create to advise them. Former Task Group members could reapply, but they would have to go through an application process explaining what knowledge, skills or experience qualifies them to advise BLM on the sub-groupís topics. The applicant must agree to a 3-year term and to support the BLMís "Communication Guidelines established for the sub group". Any new member of the sub-group "must have the concurrent permission of the BLM," Davis said.

The PAWG would also have the option of forming a sub-group for additional advice for reclamation issues, with consent of the BLM Field Manager. The PAWG would not be able to form sub groups to garner public input on the topics of air, water, socio-economics, transportation or wildlife issues. Their input on those topics would come from federal, state and county agencies.

The BLMís recommended plan includes moving to quarterly meetings, rather than monthly, and expanding those meetings to 1 to 1.5 days in length "to delve more deeply into key topics", Maruska said.

PAWG member Cathy Purves asked, "How is this different from what we are doing now?" She said the PAWG already goes on field trips and chooses the place where they want to go and what they want to have topics on. She expressed concern over months between meetings. "How does that work so that we still have timely recommendations, and we donít feel like we have been slighted or that weíre not contributing?"

Members of several Task Groups spoke strongly in opposition to eliminating Task Groups, citing their desire to continue to participate and explaining that a lot of good has come out of the Task Group process. Task Group members also pointed out the wealth of free expertise the BLM was getting from knowledgeable citizens in the community who were donating their time and energy into the process. Some Task Group members have been involved with their groups for many years. Under the new system, it was uncertain whether any former Task Group members would be deemed qualified to be selected by the BLM to serve on any new PAWG sub group, but they were welcome to apply.

BLM District Manager, John Ruhs told the PAWG he was committed to exploring alternatives for finding ways to provide opportunities for public involvement to help address some of these issues and keep people at the table. "From BLMís standpoint, weíre committed to supporting the PAWG as we re-invigorate it, as we focus it more," he said. When Ruhs was asked by Don Maruska if he would have an opportunity to give PAWG members an update at the next PAWG meeting in August, Ruhs said "How successful Iíll be at getting that done by then, I donít know," because heíd have to go to the other agencies and "spark their interest".

The next PAWG meeting will be a 1 and Ĺ day meeting/field trip combination which will focus on wildlife, including avian management on the Pinedale Anticline. The public is welcome to attend. Anyone who has suggestions for things they would like to see included as scheduled stops can contact Shelly Gregory at the BLM, 307-367-5309, or email shelley_gregory@blm.gov.

After lively debate from the public, Task Group members, and media on the BLM recommendation to disband the Task Groups, the PAWG ultimately approved a motion to take no action and leave the current situation as is. This will give time for everyone to consider options about what should become of the Task Groups and then review the topic again at the next PAWG meeting in August.

The PAWG agreed to reforming the Cultural Task Group and moving forward with exploring other options for public input. The Cultural Task Group was instructed to proceed with reviewing the BLMís new model for their re-incarnation and to "flesh it out." The other Task Groups will be invited to review the new model as it would apply to their group, if reformed for short-term needs. The BLM said the Air, Water, Socioeconomics and Reclamation people "donít need to be meeting at this time as a Task Group."

By August, Washington DC will have approved the new Charter for the PAWG and new bylaws will be in place with the new framework the BLM requires for the group.

Click on this link for the PowerPoint presentation shown at the meeting explaining the BLMís new direction for moving forward with PAWG http://www.blm.gov/pgdata/etc/medialib/blm/wy/field-offices/pinedale/pawg/meetingdocs.Par.30372.File.dat/MovingForward.pdf.

The Pinedale Anticline Working Group (PAWG) develops recommendations and provides advice to the BLM on matters pertaining to oil and gas development in the Pinedale Anticline Project Area (PAPA), as described in the Pinedale Anticline Environmental Impact Statement (EIS) and Record of Decision (ROD). Members are appointed by the Secretary of the Interior from the oil and gas industry, the environmental community, local governments and the public-at- large, and functions as a working group. The PAWG is assisted by and has oversight over several subcommittees Task Groups designated to address specific issues including wildlife, air and water quality, transportation, socio-economics and cultural/historical resources.




Related Links
PAWG - Pinedale Anticline Working Group