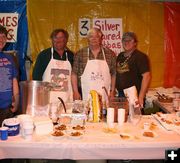 Silver Haired Bubbas

The "Silver Haired Bubbas", representing ExxonMobil, won the Judge's All Around Pick for 1st Place for their Buttermilk Pie in 2009. From L to R: (Matthew Harris not part of the team), Jerry Harris, Brent Fowler and Bill Blair.



EnCana got 2nd in 2009

EnCana - 2nd Overall (L to R) Todd Stapleton, Kurt Hoover and John Richter prepared hot wings that won 2nd Place for the Judge's Overall Choice award in 2009.


2nd Annual Menís Cook-Off Challenge & Red Neck Ball June 5
by Benefit for A Womanís Work
May 25, 2010

The 2nd Annual Menís Cook-Off Challenge & Red Neck Ball will be held Saturday, June 5, at the Sublette County Fairgrounds (north of Marbleton). The function is a benefit for A Womanís Work, a local organization that helps women in need. Men from local companies and businesses will compete in preparing delicious goodies for you to sample and judge. Ballots will be provided and the winners will be announced before the end of the festivities. Music, beverages and fun

The festivities will take place from 6:00 PM to Midnight. Hereís a chance to taste test some incredible food, have fun socializing, and help support a very worthy local cause.

Tickets $15 per person or $25 for two. For advance tickets, call or stop by the Big Piney Recreation Office on Budd Avenue in Big Piney, 307-276-4071.

The non-profit organization ĎA Womanís Workí held their "Fall Follies" social and fundraiser on Friday evening at the Marbleton Senior Center. The group began in January, 2008, with the desire to help women in need. They started with the challenge to get 100 women to donate $100 each in 100 days. They achieved their goal in under 100 days. They use the money to help women with dire needs that arenít met by other resources in the community. All they ask in return is that the woman they help performs an act of kindness within 60 days.

In 2008, they approved 17 grants for assistance amounting to $16,735.95. Community partners donated another $9,509, making the grand total $26,244.95. Also in 2008, EnCana granted AWW a total of $10,000 to help with both operational costs and grants. The Upper Green River Sustainable Community Fund (UGR) of the Wyoming Community Foundation granted AWW $16,000.

For more information about A Womanís Work, contact LaVonne Stevens at 307-276-3461 or e-mail AWW@centurytel.net, address: PO Box 435, Big Piney, WY 83113.