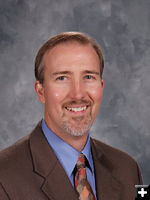 Jay Harnack

Photo courtesy Sublette County School District #1.


Jay Harnack hired as new SCSD#1 Superintendent
by Sublette County School District #1 media release
April 26, 2010

Public Notice: Superintendent Search

After a national Superintendent Search conducted by Ray and Associates which garnered 88 completed applications, the Board of Trustees of Sublette County School District #1, is happy to announce the hiring of JAY HARNACK as Superintendent of Schools.

Jay comes to us from Farmer City, Illinois. He has spent the past 14 years in education serving as a science teacher, coach, and high school principal. He served as superintendent for seven years with the past 5 years as the Superintendent in Blue Ridge Community District #18 consisting of 950 students. Mr. Harnack holds a Bachelors and Masters Degree in Botany and a Masters and Education Specialist Degree in Educational Leadership from Eastern Illinois University.

The Board of Trustees is excited to move in an upward direction where average is not acceptable and excellence is sought for all students.

Board members would like to thank everyone who took the time to participate and provide input in the search process.