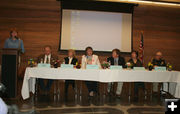 Underage Drinking Panel

A panel of speakers gave presentations at the Underage Drinking town meeting in Pinedale on Tuesday.


Underage Drinking Town Meeting
by Dawn Ballou, Pinedale Online!
March 23, 2010

A forum of speakers talked about the problem of underage drinking at a town meeting in Pinedale on Tuesday, March 23, at the Sublette County Library.

Wyoming First Lady Nancy Freudenthal was supposed to be the keynote speaker, but at the last minute she was unable to attend when winter weather closed the Cheyenne airport before her plane could leave.

Pictured are (L to R) Robena Downie-Prevention Specialist (standing), Pinedale Mayor Steve Smith-Moderator, Sublette County Attorney Lucky McMahon, Doris Woodbury-former Sublette County School District #1 Superintendent, Dr. James Quirk-Pinedale Medical Clinic, Prevention Specialist Dayle Read Hudson, Sublette County Sheriff's Office Captain John Wells.




Related Links
www.wfli.org - Wyoming First Lady Nancy Freudenthal's Initiative to Prevent Childhood Drinking