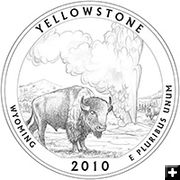 Yellowstone Park Quarter

The Yellowstone National Park Quarter is the second of 2010 and the second overall in the America the Beautiful Quarters™ Program. Photo by U.S. Mint.


New Yellowstone quarter design unveiled
by National Park Service
March 27, 2010

An iconic scene featuring a bison and Old Faithful will grace a new quarter to be issued by the U.S. Mint later this year.

The image depicting Yellowstone National Park was unveiled at a ceremony held in Washington, D.C.

This coin is part of the America the Beautiful Quarters Program announced last fall.

The program is designed to celebrate the nation's legacy of conservation. The U.S. Mint will strike and issue a total of 56 new quarters, each featuring one national park or other federally protected area in each state, the District of Columbia, and American Territory.

The face of each coin will continue to feature the familiar image of George Washington.

The coins will be issued in the order the areas first came under federal protection. The first, honoring Hot Springs National Park in Arkansas, will be released on April 19. The quarter featuring Yellowstone will be released sometime in June; the second of five to be released this year.

Also to be released in 2010 are quarters depicting Yosemite National Park, Grand Canyon National Park, and Mt. Hood National Forest.

In addition to the coins for circulation, the Mint will produce collectable items including proof sets, silver proof sets, a five ounce silver bullion coin, coin bags, and coin rolls for each quarter. More information about the America the Beautiful Quarters Program is available on the web at www.usmint.gov/mint_programs/NSQuartersProgram/.