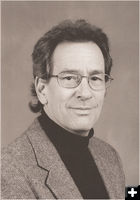 Barton Barbour

Author of "Jedediah Smith: No Ordinary Mountain Man." Barbour is the special guest speaker at the annual Spring Thaw Party for the Sublette County Historical Society.


Historical papers debut at Museum Spring Thaw Party on March 4
Talk on Jed Smith by Barton Barbour, debut of historical fur trade papers, news & updates
by Pinedale Online!
March 2, 2010

Here's your chance to get a first peek at some of the rare historical fur trade documents that the Sublette County Historical Society and Sublette County purchased at an estate auction in New York in January. Only the papers purchased by Historical Soicety through generous donations of members will be on display at the Spring Thaw Party.

The papers were part of a huge private collection belonging to Floyd Risvold, who spent decades amassing documents and items related to early American history. Three representatives of the Sublette County Historical Society/Museum of the Mountain Man went to the auction to try and purchase some of the letters and business documents written by people who were important to the Rocky Mountain Fur Trade which, in part, took place in our Upper Green River Valley during the early 1800s.

Some of the papers tell details about the beaver trade and transactions getting supplies to the annual rendezvous, some of which took place near Daniel. The documents provide interesting insights into the business dealings and personal lives of the men who risked their lives, endured incredible danger and hardship, and braved the wilds in the hopes of making a fortune from what amounted to our valley's first economic "boom", (long before the oil and gas boom), making some men rich from the beaver trade and costing others the ultimate price of their lives. Documents obtained were written by and are about prominent mountain men including William Sublette (after whom Sublette County is named), Robert Campbell, William Drummond Stewart, Thomas Fitzpatrick, John Jacob Astor, William Ashley, Jedediah Smith, Nathaniel Wyeth, Lucien Fontenelle, William Drummond Stewart, and other well-known figures of the Rocky Mountain fur trade. In all, over 90 documents were purchased at the auction and brought home to Sublette County. Some of these papers will be debuted at the historical society's annual meeting and "Spring Thaw Party" on Thursday, March 4th at the Museum of the Mountain Man.

Special guest speaker at the Spring Thaw Party will be Barton Barbour, author of the new book "Jedediah Smith: No Ordinary Mountain Man" which was published in April, 2009. Jedediah Smith was a fur trapper, trail blazer and explorer who worked side by side with William Sublette, Thomas Fitzpatrick, Jim Bridger and other iconic mountain men who explored and trapped beaver in our Upper Green River Valley. As a young man in his 20s as part of a beaver trapping expedition here, Jed Smith was attacked by a grizzly bear which ripped open his side with its claws and took his head in his mouth and nearly ripped off his ear before finally running off. Jed had his fellow trappers clean his wounds, sew his ear back on, bind his broken ribs, and then they all continued on. He survived to live through many more adventures. Books will be available for sale at the party and Barbour will be happy to autograph copies.

The Spring Thaw Party will also be the launch for membership for the new Sublette County Chapter of the Wyoming Archaeological Society which is being formed. The Sublette County Historical Society hopes to someday expand the museum complex in Pinedale to build a new archaeology wing to showcase the incredible amount of archaeological information which is being discovered in the Pinedale Anticline and Jonah gas field development areas. The number of archaeological finds discovered in the Upper Green River Valley has literally exploded in the last ten years with the expansion of oil and gas development. The surface site inspections, well pad and facility development, road construction and pipeline excavations have effectively been a methodical locating system for archaeological sites as well as gas field development activity. Some of the sites on the Mesa show human activity in our valley dating back thousands of years. It is still largely a mystery what these primitive people were doing out on the desert south of Pinedale, but there is substantial evidence of their presence. The finds have generated a lot of excitement in the archaeological community, resulting in interest and support in creating our own chapter of the Wyoming Archaeological Society. Everyone is invited to come and hear more on this subject and people of all ages and interest levels are welcome to join.

The Spring Thaw Party is an annual opportunity to hear an update on all the exciting things happening at the Museum of the Mountain Man and with the Sublette County Historical Society. There will be a special selection of wine, beer and cheese and chocolate for tasting. Non-alcoholic beverages will also be available. The meeting starts at 6:00 p.m. at the Museum of the Mountain Man in Pinedale. Everyone welcome.




Related Links