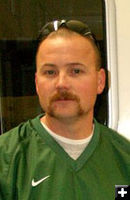 Wil Gay

Pinedale Online file photo.

America's Most Wanted All-Star Contest
Here's your chance to vote for Pinedale's Wil Gay!
March 15, 2010
America's Most Wanted and Sprint have teamed up to sponsor a contest entitled "America's Most Wanted All-Star Contest" to honor first responders in the country. The purpose of the contest is "to honor the network of heroes among us."

Dr. Jim Quirk nominated Pinedale's Wil Gay, Director of EMS Services for Sublette County, for the contest. He is listed on the website along with other nominations. Each week another finalist is selected from all the nominees.

To be eligible, nominees must be a first responder (i.e., law enforcement, fire or rescue personnel or EMT) who is employed by, or volunteers with, a federal, state or local first responder agency. Grand prize is $10,000 plus a trip to Charlotte, North Carolina for the contest finalist events.

During each of the eight weekly voting periods, visitors may cast one vote, each day of that voting period for the Official Nominee that they believe exemplifies the All-Star qualities. The Official Nominee who receives the most votes during that weekly voting period will be designated as the Weekly Finalist for that week, receive the Weekly Finalist Prize and become eligible to be the 2010 All-Star Winner. The Weekly Finalist will be identified on AMW.com/allstar and/or "America's Most Wanted" ("Program") on the Saturday immediately following the close of that weekly voting period. The remaining Official Nominees for each week will continue to be eligible to receive votes during the next weekly voting period. All votes received by each remaining Official Nominee will be discarded and will not be included in the vote count for that nominee in the subsequent weekly voting periods.

Weekly Finalists receive a prize of a AMW duffle bag with AMW merchandise. Approximate retail value: $100 each.

The All-Star Winner Prize is a check for $10,000, two admission tickets to the NASCAR SPRINT Cup Series™ All-Star Challenge on May 22, 2010 in Charlotte, North Carolina. Winner gets round-trip coach airfare for two, hotel accommodations for 3 days/2 nights, transportation between the airport in Charlotte, North Carolina and the hotel and between the hotel and certain Challenge – or All-Star-related events to be selected by Sponsor; and a AMW varsity jacket. Approximate Retail Value: $12,000.

Below are links for more information about the nomination details about Wil Gay and the webpage where you can vote for him. Voting ends April 11th at midnight (EST). Fans can vote once a day for their favorite nominee. (Vote today and go back tomorrow and vote again!)

Direct link to vote:
http://www.amw.com/allstar/2010/vote.cfm?id=8461

Nomination details for Pinedale EMT Wil Gay (you can vote from a link on this page also):
http://www.amw.com/allstar/2010/nominee-detail.cfm?id=8461

Below is the description posted for Wil:

"EMS Director Wil Gay began his career as a teen in California with Escondido Fire Department in 1984. A few years later he earned cadet firefighter status and moved to Valley Center Fire Protection District as an on-call firefighter. He went on to work with the California Department of Forestry as a seasonal firefighter and then joined the Hartson Ambulance as EMT-B. After leaving the state of California he went to the Boulder, Wyoming Volunteer Fire Company as a volunteer firefighter. Then in 1999 Wil Gay joined Sublette County Rural Healthcare District in Pinedale, Wyoming as the EMS director servicing an area that is sparsely populated with the nearest hospital 80 miles away. In spite of the rural setting, they effectively provide emergency services for all of the citizens of the county. Director Gay's supervisor, Dr. Demetriou said, "Director Gay is committed and works tirelessly responding to emergency medical situations 7 days a week, participating when needed. " Director Gay's trainings include Wyoming EMT-Intermediate, certified as Wyoming EMS Instructor Coordinator and Fire service Instructor I (Pro Board), FEMA ICS Instructor and Awareness Level Instructor, Wyoming firefighter I and State Forestry Engine Boss/IC type IV."