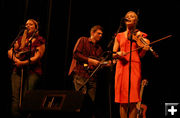 Fiddling

(L to R): Angela, Jason and Odessa.





Scroll down for more pictures




Bearfoot
by Dawn Ballou, Pinedale Online!
February 13, 2010

Alaskan band, "Bearfoot," delighted the audience in Pinedale Friday night with a concert of twin fiddles, fast-picking mandolin and guitars, an upright bass and beautiful harmony vocals. The band received a standing ovation and gave an encore performance to the enthusiastic crowd. The group gave workshops at local schools during the week and held a free acoustic workshop on Thursday for the public, inviting local musicians to bring their guitar, fiddle or mandolin to have hands on practice with the band. The performance was a presentation of the Pinedale Fine Arts Council.

Bearfoot Band:
Kate Hamre - acoustic bass
Odessa Jorgensen - fiddle
Mike Mickelson - guitar
Jason Norris - mandolin
Angela Oudean - fiddle

Photos by Dawn Ballou, Pinedale Online!